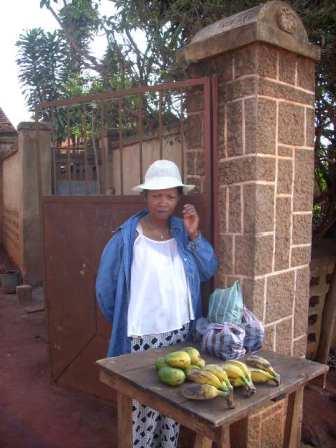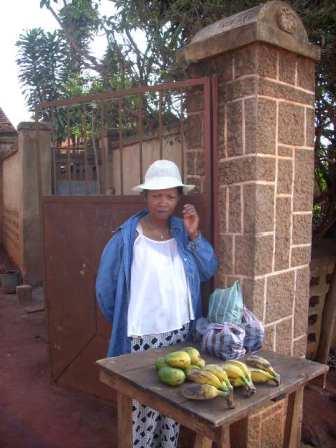 Rice Vendor
44 Years Old
2 Children
Divorced
12 Years of Schooling
My name is Raharivoavy Rollande Estelle and I am 44 years old. I am originally from the rural areas, but I have lived here for 12 years. I am divorced with two children, 16 and 6. I would like to use this loan to buy rice in the rural areas and then resell it in the market.
Hello from Rollande. In my family we eat three times a day and at each meal there is always rice. There are two ways of fixing the rice: one is soupy rice and the other is plain rice. For breakfast and dinner, we always have the soupy rice, and for lunch, we have the plain rice. Yesterday, for breakfast we had soupy rice with an omelet and for lunch we had the plain rice with a sauce of greens. For dinner, we had soupy rice with the same sauce of greens. I am always the one who does the shopping and prepares the food. My family's favorite food is plain rice with bean sauce.
Hello, it's me, Rollande. In my family, we are not often ill, but sometimes we have a headache because of the climate here. Ambalavao has a climate different than other places because we are in a mountain basin and that affects the climate. Regarding the season I like best - it is winter because it is the harvest time and that is the period when my business does well, not like now when it is the rainy period which is only good for farming.
Unfortunately, Estelle was not able to send in an interview this month because she has recently been hospitalized. We will send more information as we get it.
Hello! It's me, Raharivoavy. I have two children who go to school and they are still in primary school. I have already saved for money for them to return to school and I think I have enough to pay their entry fees and buy their supplies even though the cost of schooling and supplies has increased. I find that each year the costs become more and more expensive and sometimes parents must spend more than they had planned. But it is necessary to sacrifice so that my children will have a better education and future than I have.
Hello! It's me, Raharivoavy. I am happy because my business continues to go well even during the period of planting. Indpendence Day is a large celebration, but we did not have a big celebration because it is important to think of the next day after the holiday as well. But to celebrate, we went to the stadium all morning to watch parade and hear the speeches of the town officials. We ate chicken for lunch and then went to the festivities that the town had organized. Regarding the vacation, my children are too little so they do not know what vacation is, so they will be at home with me.
Hello! It's me, Raharivoavy. I am happy because my business is still going well. Independence Day is a big celebration because it is the time when all the villagers have the means to celebrate because it is the end of the harvest. For me, I don't plan to do big things. I just wish to eat something different than we normally do, and for the children to have good clothes. It is important to think of the day after the celebration because it is the time to pay back our loan.
Hello, Rollande Estelle here. I am happy because I was able to repay the first loan installment and I had money left over. So I am able to continue growing my business, which is going very well at the moment. The training we received was also very helpful in learning how to plan our business expenses. Thank you!
Estelle here. I am happy to receive this loan because it has already helped me care for my mother who was very ill . She is healthy again now and I am very happy. This improvement is thanks to your help and now I can continue working in peace because I have the money to help take care of my family from the profits I have been earning. Thank you!