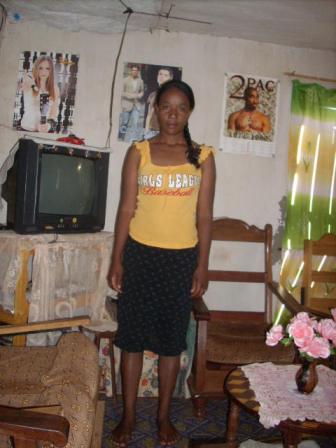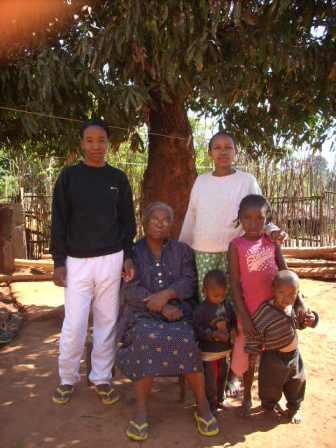 Pig Farmer
24 years old
1 Child
Married
11 Years of Schooling
My name is Rakotovao Maminirina. I'm 24 years old. I have one daughter, she is 3 years old. I have lived in Avaramanda for the past 24 years. I am not married. I studied in school up until the 11th grade. I am a cleaning woman; I'd like to use this loan to raise pigs. My dream is to have a better life than now, and for my children to be educated and also to have a house.
Maminirina: My house was built with bricks, it has an aluminum roof and a cement floor. It has three rooms: a living room, a bedroom and a kitchen. I live with my children and step-brothers. We do have electricity but very little water so I must go twice a day to the public water pump to get some.
Hello from Maminirina. In my family, I am always the one who shops for the food and prepares it. For example, yesterday for breakfast we ate bread with tea. For lunch we had rice with bean sauce and mangoes for dessert, and for dinner it was the same thing as at lunch. My family's favorite food is pork and chicken.
Hello! It's Mamy. The sickness my family often has is malaria and the cough. The climate of Ambalavao is different I think because of the fires and its destroyed environment. I like the period of rain because there isn't any water problem. At this moment it rains a lot and it is hot. The weather causes little inconveniences at my business because there are the other animals that don't handle the humidity well.
Hello! It's me, Mamy. My day begins at 5:00 a.m. when I go get water. Afterwards, I make breakfast and clean the house. After we eat breakfast, I get the children ready for school and I take them to school about 7:15 a.m. I go to the market on the way home. Then I make lunch and afterwards I take care of my chickens and pigs (I clean their house and feed them!) After our lunch, I stay home to do the laundry. I go back to pick the children up from school at 4:00 p.m. We eat dinner at 7:00 p.m., watch a bit of TV and then go to bed. On Sundays, we have church in the morning, and during the afternoon, we rest or sometimes there is a meeting.
Hello! It's me, Rakotovao. I have one child who goes to school. I find that the costs of schooling this year has gone up a lot as well as the cost of school supplies. But I have already planned for this and I do not think I will have a problem this time and for the following year because I want my children to be able to study and to learn a lot of things. It will be good for their future. It is the only thing that I am able to do for them.
Hello! It's me, Rakotovao. Business continues to go well at this time. Regarding vacation, I do not have children but I think that children are going to help their parents with sales and getting their things ready to sell, as well as with household tasks. For the Independence Day celebration, we did different things than we normally do. We attended the parade in the morning and then we had chicken for lunch.
Hello! It's me, Rakotovao. Business is going even better this month because there is our Independence Day and the people spend more money to buy things for this celebration. But after the holiday, things will calm down a little because they will be busy with the next season of planting. For me, I will celebrate this national holiday like every other holiday. We will eat different things than we normally do and the children will have new clothes. But I will budget my expenses because it is important not to spend too much.
Hi, it's me, Maminirina. I am happy because my business is going really well and I was able to make the first loan repayment without a problem. I hope everything will continue like this and that I won't have any trouble in paying back the other installments. Thank you for the training that the Masomboly team gave us to help managed our finances.
Maminirina here. I am happy to receive this loan because it will help me to believe that I can do things for myself. With this money that I will gain I will be able to help myself and my family and we will save as best we can for realizing our dreams. Thank you for your confidence and generosity!