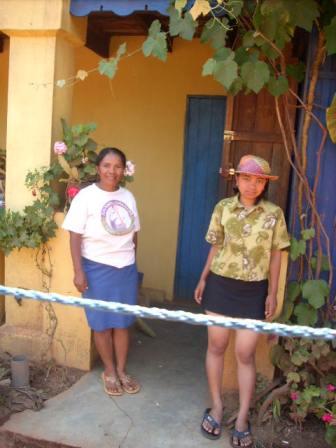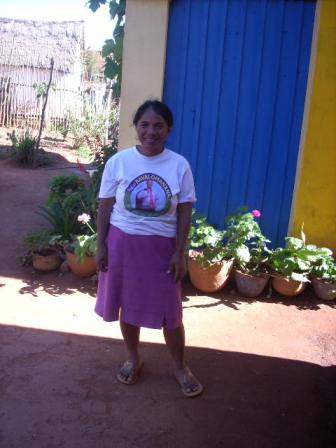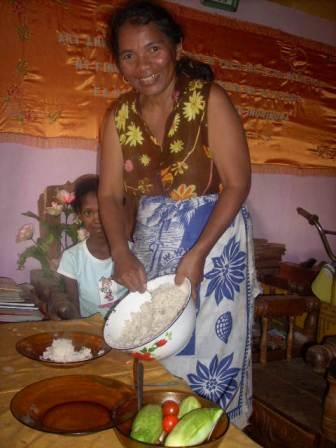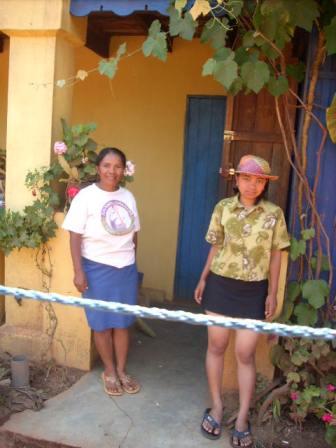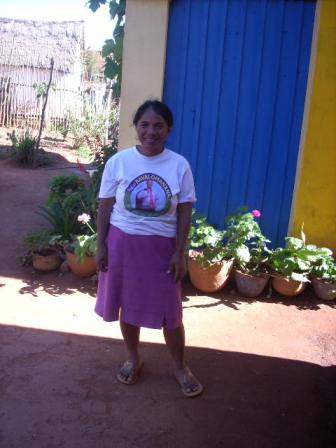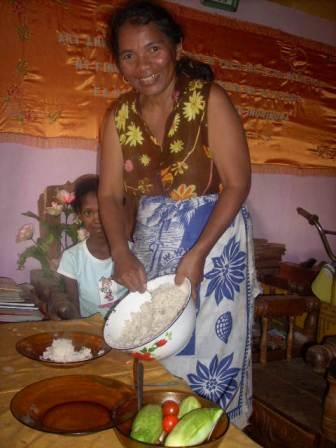 Rice Vendor
43 years old
2 Children
Divorced
10 Years of Schooling
My name is Razaiarimanana Henriette. I'm 43 years old. I have 2 children 1 daughter and 1 son; aged 10 and 21 years old. I've lived in Ambohijafy for 8 years and I am divorced. I went to school until 10th grade, I am a merchant and I'd like to use this loan to enlarge my commerce in order to make more money. My dream is to be able to give a better and happier life and for my children to receive a better education than I did and they'll have the luck of having a comfortable job.
Henriette: My house has four rooms, a bedroom, a living room, a dining room and a separate kitchen. The house has aluminum sheets on the roof, floors made from cement and brick walls. I live here with my children and we have electricity and water.
Hello from Henriette. In my family we eat rice three times a day. Yesterday for breakfast we had rice with small pieces of fried beef and for lunch we had rice with zebu meat (beef) and ground leafy greens, with mangoes for dessert. For dinner we ate the same thing as for lunch but there was no dessert. I am the one who buys the food and prepares it. My family's favorite food is rice with fish sauce.
Unfortunately Henriette was unavailable this month for her photo or interview. She was in the hospital. We will send more information as we receive it.
Hi! It's me Henriette, I always get up at 5 a.m. to fetch water and I make breakfast, after breakfast I do the cleaning; after all this I go to the market to sell manioc, eggs and cereal, I eat lunch at the market and I go home at night, I go home at 5 p.m. and I prepare dinner and I eat at 7 p.m. and I sleep at 8 p.m. at the latest, and on Sunday I go to church in the morning and in the afternoon I do laundry or go to a reunion.
Hello! It's me, Razaiarimanana. For my children, they did not have a real vacation because they are already in university. For me, it is not at all easy because I have two children who are in university and it is always me who pays for their studies because here scholarship money is very little. They are not even able to buy a tenth of the things they need for their studies with the scholarship. It is difficult, but if one wants their children to have a good future, we must sacrifice for our children. I am a parent who wants the best for my children, and for that, I am willing to pay the price.
Hello! It's me, Razaiarimanana. My business continues to go well despite the weather. My children are going to spend their vacation by doing some additional training. For Independence Day, we celebrated it with all the family and it was very nice. We all ate together at lunchtime and then in the afternoon, the children attended the celebration which the town had organized.
Hello! It's me, Razaiarimanana. The month of June is the last month that business will go very well because it is the end of the harvest season. After Independence Day, the people begin to think of the planting season and they spend less money for things except for seeds. For me, I will celebrate this national holiday like any other celebration. We will eat good things and the children will wear nice clothes. But I will not spend too much on just one day.
Hello from Henriette. I want to thank the Masomboly team who provided us with a training that helped us learn how to better handle the profits I have been earning. With all of the profits I have been able to repay the first loan installment without difficulty and my business is continuing to go well. Thank you!
Hello it is Henriette. I want to offer thanks to all of the Masomboly funders because I am very sure of what you have done for me. Because with the loan you have given, I have been able to enlarge my business and that will help me sell more and improve my life. Thank you for your help!