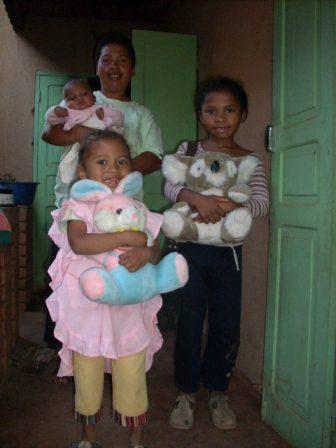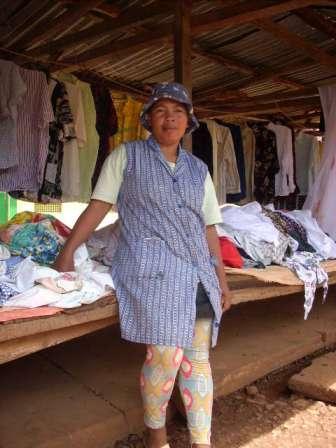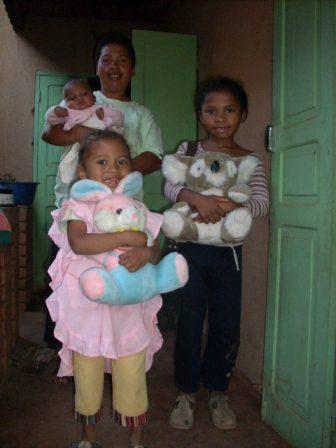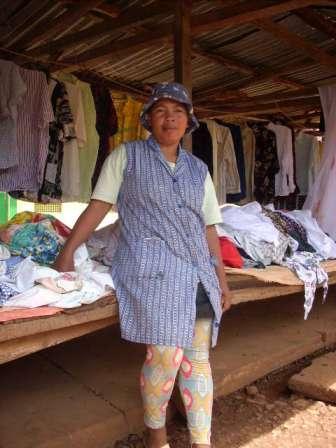 Used clothing
34 Years Old
2 Children
Married
12 Years of Schooling
My name is Herimahafaly and I am 34 years old. I want to buy and sell used clothing in the market. I studied until 12 the grade and I have 2 children, a 12 year old son and a 8 year old daughter.
Victorine: The walls of my house are built with clay and wood, I have a straw roof and a cement floor. There are two rooms: one for my husband and me and the other is a dining room and bedroom for the children. We have electricity but my husband must go fetch water at the public water pump twice a day.
Hello from Victorine. In my family we eat three times a day and at each meal there is always rice. I am the one who always buys the food and cooks the meals also. For example, yesterday for breakfast we ate white rice. For lunch, we had rice with a sauce of chopped beef and vegetables, and for dinner we had rice with leafy greens. My family's favorite food is rice with fish sauce.
Hello, it's me, Victorine. The illness that my family has the most often is a cough and diarrhea because of the changes in our climate. Ambalavao has a different climate because of the brush fires. The season that I like best is winter because business does well since it is the period of the harvest. It is very hot and it rains a lot now and that effects my business, because I can only sell for half a day.
Hello! It's Victorine; I wake up at 5am and take a shower and then clean the house. After breakfast I go out to sell second hand articles and don't come home until 5pm because I eat lunch at the market. I eat dinner at 7pm and go to sleep later because I watch some tv. On Sundays i go to church in the mornig and rest in the afternoon.
Hello, it's me, Victorine. I have two children who go to school and both are in secondary school. I have already been saving money for them to go back to school and I think that I will have enough to pay their school entry feels and to buy their supplies even though the cost of schooling and supplies has increased. I find that each year the costs become more and more expensive. This can be diffcult for parents when they need to spend more than they had planned. But we need to sacrifice things so our children can study, because it is important for their future.
Hello! It's me, Raherimahafaly. My used clothing sale is doing well at this time even though the price has gone a little because it is after the holiday. During the vacation, the children will spend their time playing. For Independence Day, in the morning we went to the stadium to watch the parade and hear the speeches of the town officials. After, we had lunch with all my husband's family and then we went to the festivities that the town had organized. This is an opportunity for us all to get together.
Hello! It's me, Raherimahafaly. The sale of used clothing is going very well at this time because the people are getting ready for the Independence Day celebration. It is the holiday which is the most celebrated in the Betsileo region because at this time the harvest is finished and people have money. Thus, they spend a lot of money on the celebration. And we profit a little by having more means to celebrate also. However, we will celebrate in as simple a way as possible, with good food and nice clothes for the children.
Hello from Victorine. I am happy because my used clothes business is going very well right now and I was able to repay my first loan installment on time. I have enough money to continue investing in my business as well. The business training that we received was very helpful in learning how to better manage my expenses. Thank you!
Victorine here. I am happy because this loan has allowed me to start a small business selling used clothing. Before I sold cakes on the side of the road but now my used clothes selling is going very well since it is the harvest season and there are many customers lookign for clothes. With the profits I will change my life and I will be abel to live less on the edge of having nothing than before. Thank you for your support and confidence!