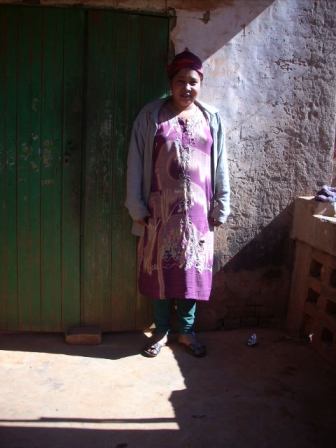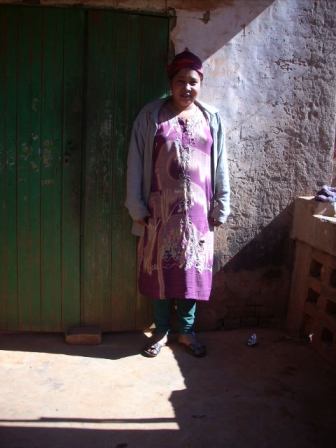 Trinkets Vendor
35 Years Old
1 Child
Single
11 Years of Schooling
My name is Nirina Raboto Emmanuel and I am 35 years old. I have a 5 year old daughter and I am single. I would like to use this loan to sell trinkets in the market and maybe someday start my own shop with drinks and hot food. I studied until the 11th grade and have lived here for 12 years.
Hello from Nirina. In my family, we eat three meals a day. For example, for breakfast yesterday, we had rice with pistachio butter, and for lunch we had rice with a sauce of greens. For dinner, we ate the same thing as for lunch. I am the one who buys all the food and prepares it. My family's favorite food is pork with mixed leafy greens.
Hello, it's me, Nirina. The illness that my family has most often is malaria. I think the reason for the difference in the climate of Ambalavoa is because we are surrounded by mountains. I like winter the best because it is the harvest period and the people have enough money and they are able to buy lots of things. Also, there is lots of food at this time. One does not have a problem with water because now when it rains, there is always enough water. My business continues to do well, because even if the people do not buy a lot, they still buy the things they need.
Hello! It's Nirina; I get up at 6 AM, I clean my son and prepare him for school, after that we have breakfast and right after, I open up my grocery store; I stay open all day, sometimes I leave in the afternoon to buy the things that are missing in my store, in the evening, I close only at 7 PM; I eat dinner and watch a bit of TV and go to bed after; sundays I go to church.
Hello, it's me, Nirina. I have only one child who goes to school but I don't think I will have a problem because I have been planning for this for a long time. I know that the cost of schooling has increased a lot this year compared to last year, especially for private school and I have put my child in a private school in order to have a better education. It is the same for school supplies - they get more and more expensive each year, despite the aid that the government gives. But it is necessary for the children in order for them to study better.
Hello! It's me, Nirina. My telephone recharging business is going well and is even increasing. For the vacation, my children are still little. Thus, they are going to spend their time playing. To celebrate Independence Day, we went to my mother's and celebrated together with my brothers and sisters. It was really fun.
Hello! It's me, Nirina. I am happy because my sale of telephone chargers is going very well and this is growing more and more because the villagers begin to have cell phones now. For me, Independence Day is like all the other holidays but the difference is that the villagers will be able to celebrate as well because they have just finished the harvest and they have enough money for the celebration. As for me, I will celebrate in a simple way so I will not spend too much money.
Hello from Raboto Emmanuel. I am very pleased that I was able to repay the first loan installment on time. I have been earning a good amount of profits with me cell phone credit business and it is going very well. We just got cell phone coverage in the past year and everyone needs the credits to make calls. I am saving up and trying to plan my expenses, so thank you for your help. Even though I have had some health problems recently, I think the profits I have earned will help me and my family get through it. Thank you!
Raboto Emmanuel here. I am happy to receive this loan because my sales of cell phone minutes has been gaining a lot of profits. With those profits I hope to improve my life and save as best I can. Thank you for your support and confidence!