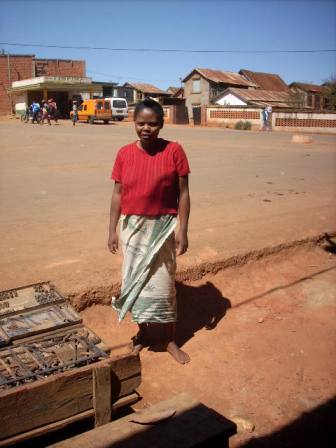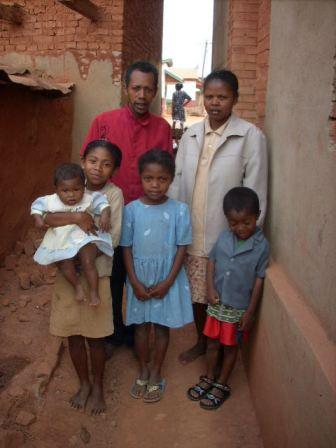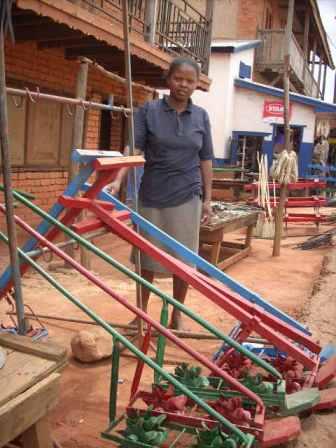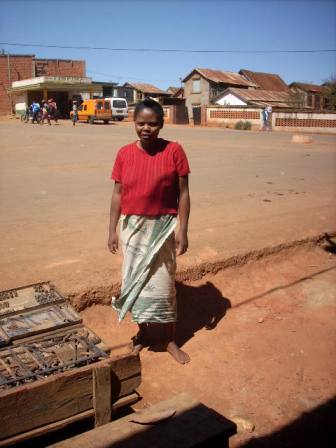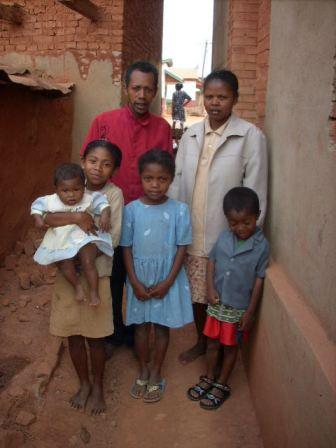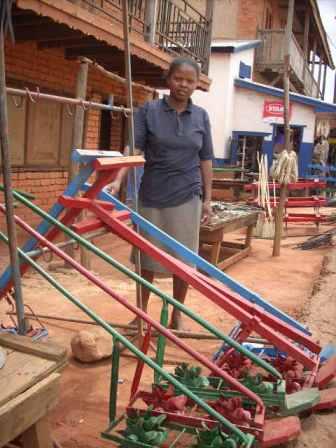 Shop owner
34 Years Old
4 Children
Married
9 Years of Schooling
My name is Ranomenjanahary Perline. I am 34 and I have 4 children, 3 girls and 1 boy. They are aged between 2 months and 10 years. I have lived at Ambohijafy for 8 years now. I am married. I have studied until year 3. I have a shop at the moment and I would like to invest this loan into the shop. My dream is to succeed in life and that my children grow up in wisdom and intelligence.
Perline: I have just moved into a new, three room house. It has a bedroom, a kitchen/dining room and a room we use to sell snacks. There are brick walls, an aluminum roof and cement floors. I live here with my family and we have electricity and water in the house.
Hello from Perline. My family eats three times per day. For breakfast yesterday we had rice with pistachio butter. For lunch we had rice with a sauce of greens. For dinner we ate the same thing as we had for lunch. I am the one who buys all of our food and also I am the one who always prepares the meals. The food my family likes the most is pork with manioc leaves.
Hello! It's Perline. It's coughing that my family often has, especially the children. The climate of Ambalavao is different because the environment is ruined because of brush fires and deforestation. We don't replant so it is very hot all year long and there is not enough rain so we are lacking water almost all year. I like the rainy season because our business does well because people do agriculture and since we sell farming materials and gargotte even more at the moment. It is hot and rains alot here right now and this is good for us.
Hello! It's me, Perline. I get up every morning at 6:00 a.m. to get breakfast ready, go out to get water, and do the household chores. After breakfast, I get the children ready for school and their father takes them to school. During that time, I get out the things we sell in front of our house because we sell second-hand goods. I stay there the whole day and I am able to cook a little as well. At 5:00 p.m., I bring everything in and get dinner ready. After eating, we go to bed at 8:00 p.m. On Sundays, we go to church in the morning, and sometimes in the afternoon, there is a meeting of Masomboly.Hello! It's me, Ranomenjanahary. I hae three children who go to school and they are all still in primary school. This year, I find that the cost of schooling has increased, but it is like this every year. For this reason, I have already been saving money for the past months to pay the entry fees. Since they go to a public school I do not need to pay school fees each month, and the government helps out with the school supplies. So, I don't have to worry this year.
Hello! It's me, Ranomenjanahary. My little restaurant continues to do well even though it is the vacation period. For the vacation, my children are going to stay here and they will spend their time playing and helping me in the restaurant and with little chores. To celebrate Independence Day, we went to the stadium to see the parade and hear the speeches of the town officials in the morning, and then in the afternoon the children went to the festivities that the town had organized.
Hello! It's me, Ranomenjanahary. My little restaurnant continues to do well. I think that this month will be even better because of the Independence Day celebration. For me, this will be a celebration like all the others. We will eat good things and the children will have nice clothes, but I wil not spend too much because it is also important to think of the reimbursement.
Hi, it's me, Perline. I would like to thank you for the training that the Masomboly team gave us on managing our finances. I am happy to have been able to make my first loan repayment with the profits that I have made and to even have some profits left over. I have been able to manage my finances well thanks to the team, and my snack stand is working well as always!
Hello from Perline. I am happy to receive this loan because it will help me reopen my snakc shop. I was obliged to close last year because I didn't have any money to keep it going. But business is good now despite the closing and I have not lost my clients. Thank you for your support of my business!