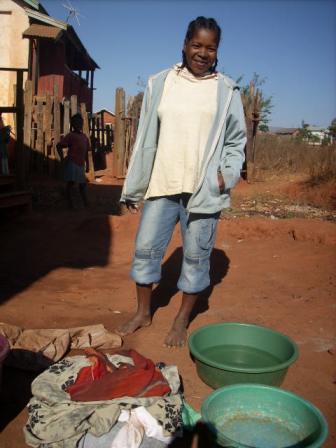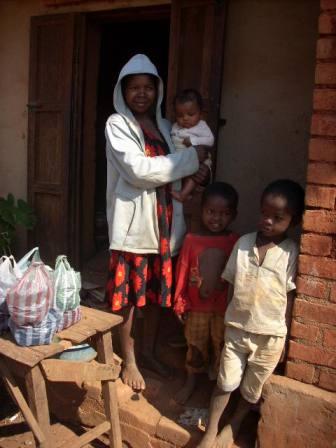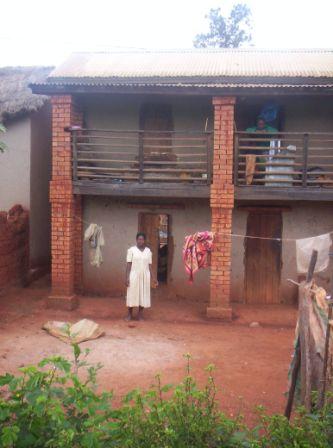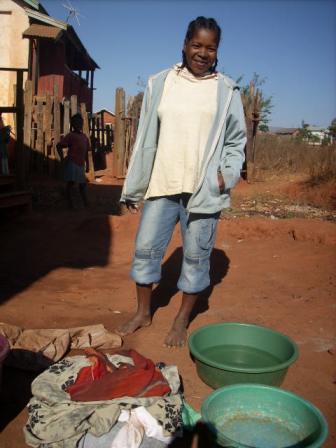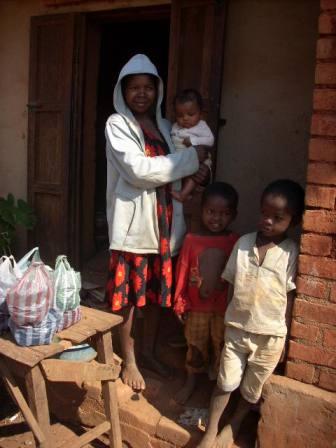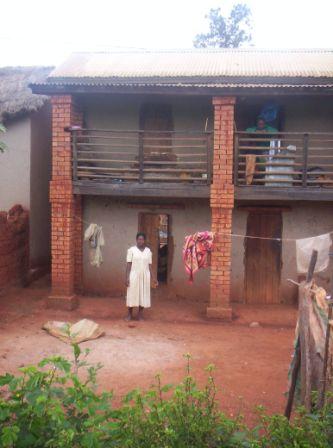 Trinkets Vendor
24 Years Old
2 Children
Married
7 Years of Schooling
My name is Rasoa Martine and I have 2 sons aged 7 and 5. I am 24 years old and I would like to expand the things that I sell in the market with this loan. I have only lived in this town for 3 years since I got married.
Hello from Martine. In my family, we eat rice three times a day and I am the one who always does the cooking. For example, yesterday for breakfast we had rice with greens. For lunch we had rice with a vegetable sauce and for dinner we had rice with an omelet. The food my family likes the most is zebu (beef) meat cooked with greens.
Hello, it's me, Martine. The illnesses that my family has the most often are headaches and the flu. The climate of Ambalvao is different than other places because we are surrounded by mountains. We are in a basin and that has an effect on our climate, I believe. For me, I like winter the best because it is the harvest season and food is less expensive and one is able to buy it at a lower price. Right now it is the rainy season and that has a negative effect on my business, because I sell less when it rains, and thus I earn less.
Hello! It's Rasao; I get up at 6 AM, I fetch water and then i make breakfast, after that I leave to sell and I come back at 11 AM to prepare lunch; in the afternoon, I return to the market and I stay there until 5 PM; after that it's the preparation of dinner and right after dinner, we go to bed. On sunday, I go to church in the morning and in the afternoon I do a bit of laundry.
Hello, its' me, Martine. I have two children who go to school. They are still in primary school and I think that I will not have any worries when they start back to school because I pay only for the school entry fees. The government pays for many of their school supplies because it is a public school. I need to buy only the things that are lacking. I find that the school entry fees are becoming more and more expensive, so we must work hard to earn the money to afford this. It is important so they will learn and have a good future.
Hello! It's me, Rasoa. Business is going well at this time, but after the holiday, sales decreased a little. For the vacation, the children are going to spend their time playing. On Independence Day, we went to the stadium in the morning and had a big lunch. In the afternoon the children attended the festivities that the town had organized.
Hello! It's me, Rasoa. My business is going well up until this time, but after Independence Day the people are going to be busy with the planting season. For me, this national holiday is a big celebration because it is a celebration for all the Malagasy people and it deserves to be celebrated, without spending too much. It is always necessary to think about business and also the reimbursement of the loan.
Hello from Martine. I am happy because my business is growing and I was able to repay the first loan installment on time like everyone else. Thanks to the Masomboly team as well for the business training we received as it helped me to think about how to better manage my finances. I hope that I will be able to continue this success in the future. Thank you!
Martine here. I am feeling good because the loan has allowed me to start a small business for myself that is allowing me to help improve my revenue and I have been able to start saving for the future. I want to thank you all for your support and confidence!