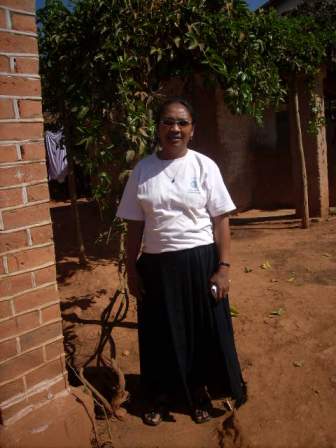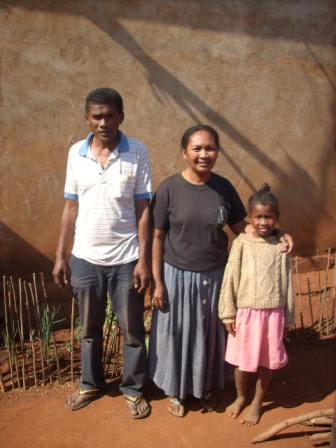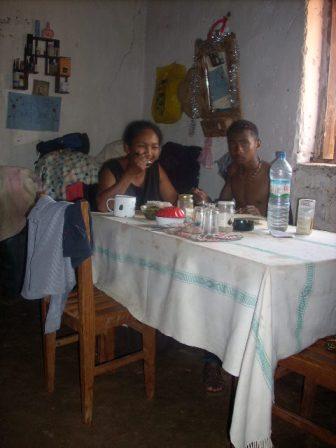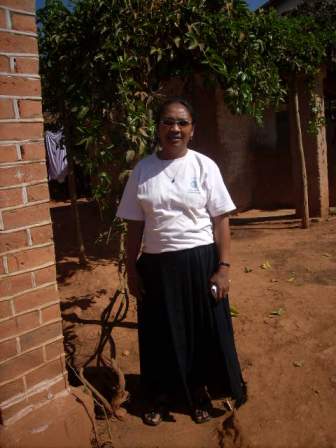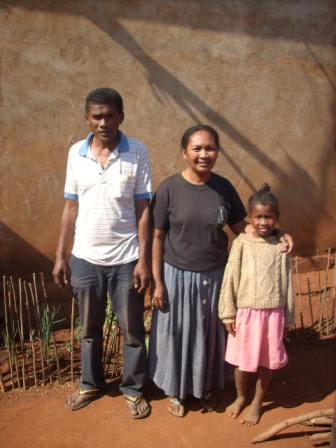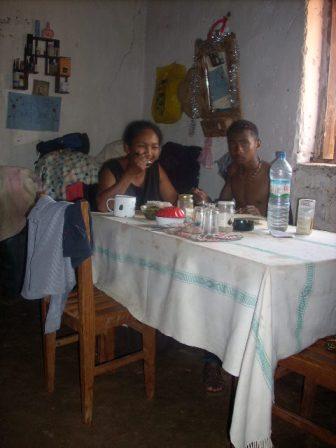 Trinkets Vendor
51 Years Old
5 Children
Married
9 Years of Schooling
My name is Rasoanirina Emilienne and I am currently a 51 year old homemaker with 5 children. I would like to use this loan to start a business selling small trinkets in the market. I studied until the 9th grade.
Emilienne: I live in a house that isn't too big because it only has two rooms. One is a bedroom and living room and the other is a kitchen and dining room. The house has cement floors, brick walls and an aluminum roof. I live here with my husband and our kids. There is electricity in the house but either my husband or out kids must get water from the community water pump every day.
Hello from Emillienne. In my family we eat rice at each meal. For example, yesterday for breakfast we had rice with small pieces of fried beef; for lunch we had rice with a vegetable sauce and for dinner we had rice with grilled chicken and mangoes for dessert. It is my husband who buys the food and prepares it. The thing my family likes to eat the most is rice with fish and watercress sauce.
Hello, it's me, Emillienne. In my family, I am the one who is sick most often. I have high blood pressure, especially at this time because the heat affects me a lot. Here the climate is different because the environment has been destroyed. For my health, I like winter the best because it is cooler and I feel much better. The other reason I like winter is because it is the harvest period. Right now it is the rainy period and everything goes badly.
Hello! It's Emillienne; I used to wake up early every day to go buy things in the village but now I am under medical rest so I wake up at 6 am to make breakfast and then I clean. At around 8 am I go to the market and upon my return I make lunch. In the afternoon i take a nap and sew a bit. At 5 pm i go back to cooking. This is what my life is like now because the doctor tells me to rest alot. On Sundays i go to church in the morning and stay home in the afternoon.
Hello! It's me, Rasoanirina. The vacation is almost over and I have been preparing for the start of school since the beginning of vacation so that I would not have any worries about the school costs. It is a little difficult because I have three children in school - two in middle school and the other in primary. The most difficult thing for me is the cost of their school supplies because the price of these supplies has doubled this year and especially the child in middle school needs a lot of things. But it is OK. This is important because it is their future.
Hello! It's me, Rasoanirina. My business is going well even though the planting season has begun and the price of all the things that I sell has increased. My little children are going to go to Morondava for this vacation. Like each year, my sister comes here to pick them up. This year we did not celebrate Independence Day because we were in mourning because the mother of my husband died.
Hello! It's me, Rasoanirina. This month of June we end our selling cycle because it is Independence Day. After the holiday, there will be no more traveling markets like now. We will stay at Ambalavao to do another business here. For me, Independence Day is a big celebration because it is the only holiday when the villagers can truly celebrate because they have money from the harvest to have good food, buy new clothes and celebrate. Although we will celebrate, we will not spend too much.
Hello from Emillienne. I am so glad that I was able to repay the first loan installment because this has been a difficult month. But I was able to repay the loan and I still have a bit saved as well. The education on business planning that we received really helped me think about how to economize, so I want to thank the Masomboly team for that extra training. Thank you fro your support as well!
Emillienne here. I am happy to have received this loan because it will allow me to continue selling my products. The sales have gone very well up until now since it is the harvest season and there are a lot of customers. With the profits I hope to improve the life of my family and save a bit as well. Thank you for your support and confidence!