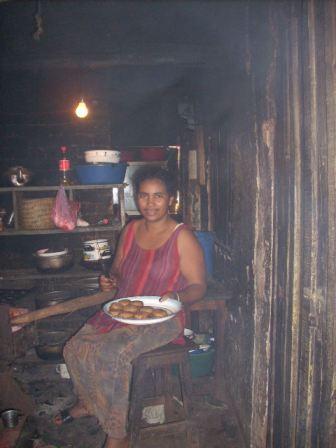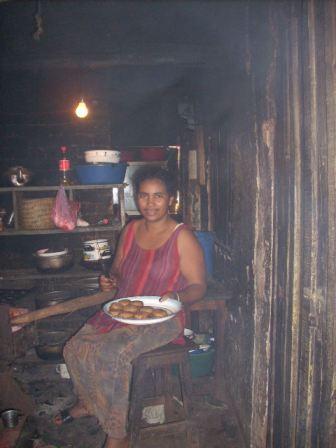 Trinkets Vendor
35 Years Old
4 Children
Married
8 Years of Schoolin g
My name is Rasoarimanana Mariette; I am 35, and I have 4 children, 3 boys and 1 girl, they age between 4 and 12 years. I have lived in Ambohijafy for 15 years. I am married. I have studied until year 4. I am a salesperson at the moment and I would like to use this loan to expand my commerce. My dream is to lead a comfortable life and that all my children go to school.
Hello from Mariette. In my family, we eat three meals a day. I am the one who does the food shopping and prepares the meals. Yesterday, we ate rice with a vegetable sauce for breakfast and for lunch we had rice with chopped meat and leafy greens. For dinner, we ate the same thing as for lunch. My family's favorite food is rice with fish sauce.
Hello! It's Mariette. The sickness my family often has is the flu and a cough. In my opinion, the climate of Ambalavao is different because here there are a lot of mountains but not a lot of forests. I like the summer because I feel very good, I am not sick all the time. It is hot and it rains a lot here at the moment but that has no affect on my business because it works well, as always.
Unfortunately, Mariette was not able to send in an interview this month because she has recently been hospitalized. We will send more information as we get it.
Hello! It's me, Rasoarimanana. I have four children who go to school and I find that the costs of schooling and school supplies goes up each year. It is a little difficult for parents even if they have already prepared for these expenses, especially for the supplies. But these are essential, and as I have already said, we make a little sacrifice so they can start school with what they need. And if it is not enough, we will sacrifice a little more so they have what they need. It is for their future.
Hello! It's me, Rasoarimanana. My business is going well up until this time. For the vacation, the children are going to help me with sales and getting the things ready to be sold. They will also help out with household chores. For Independence Day, we did different things than we normally do - we ate chicken and in the morning we went to stadium to watch the parade.
Hello! It's me, Rasoarimanana. My business is going even better this month because of Independence Day. At this time, the people spend a lot to buy things to celebrate this holiday. But after the holiday, things will calm down a little because it is time to start thinking of planting and the next agricultural season. For me, I will celebrate this holiday like all the other ones - we eat something different and the children will have new clothes. But it is necessary to budget our expenses, and I will not spend too much.
Hi, it's me, Mariette. I am happy that I was able to repay the first loan installment and my business is going very well. I was able to make the repayment with the profits that I made from my business. I hope everything will continue as it has and I won't have to worry about anything. Thank you also for the training that we received from the Masomboly team because it's really helped us managed our business finances. Thank you!
Mariette here. I want to thank you and all the Masomboly team for your confidence. I am happy because my business is going well and the profits have allowed my life to improve. Now I will have a chance to achieve my dream some day. Thank you!