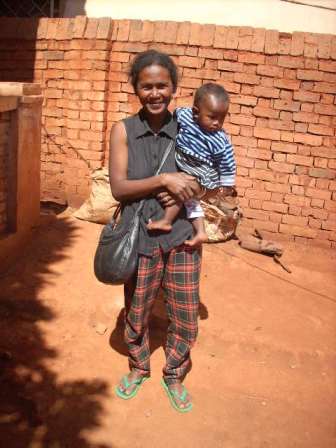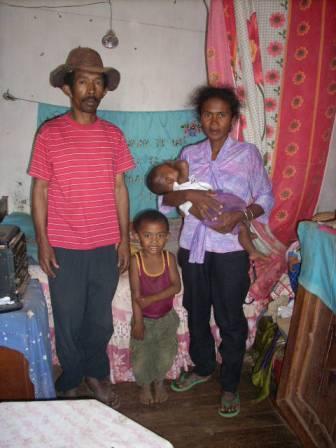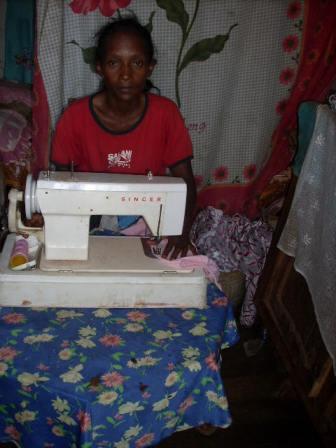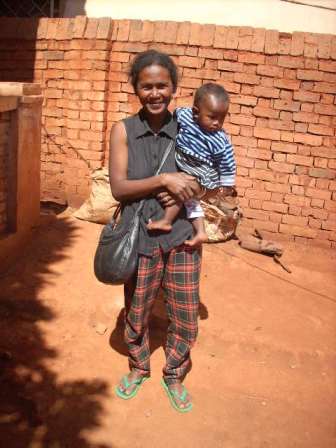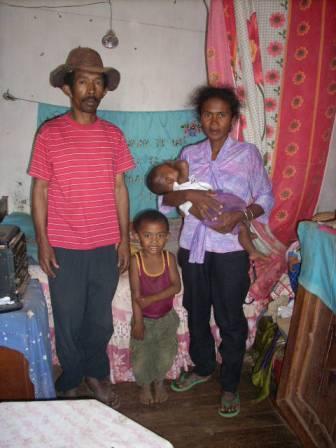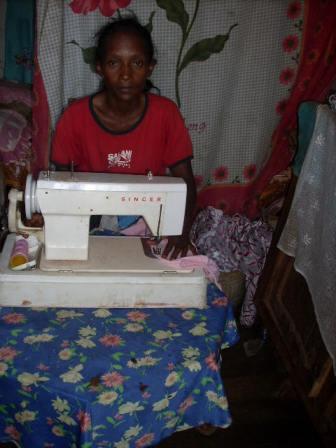 Used clothing
40 Years Old
5 Children
Married
9 Years of Schooling
My name is Rasolombololona Marie Angeline and I am 40 years old. I would like to use this loan to buy used clothing and sell them in the rural areas. I studied until the 9th grade when I got married and had my first child. I now have 5 children ages 20 to 4 months.
Angeline: The apartment I live in has three rooms, a living room, a bedroom and a kitchen. This apartment has wooden floors, brick walls and aluminum sheets on the roof. I live here with my husband and our kids. There is both electricity and water in the house.
Hello, from Angeline. In my family we eat rice three times a day and it is always my oldest daughter who prepares the meals. For example, yesterday for breakfast we ate rice with a sauce of greens. For lunch we had rice with a vegetable sauce and for dinner we had rice with an omelet. The thing my family likes to eat the most is the meat of zebu (beef) with a sauce of greens.
Hello! It's me, Angeline. The illness that my family has the most often is the flu. I think that the difference in the climate of Ambalavao compared to other places is because of brush fires and the fact that there are no more forests here. Because of this climate, there is always a lack of water in Ambalavao. I like winter the best because it is the period of the harvest and business does very well because the villagers come into town (they are our principal customers), and also there is more food, and it is less expensive. Right now it is the rainy season and it is also very hot. That has a negative effect on my business, because the chickens do not do well in the rain. Also, my business slows down during this period, because I must stay home sometimes, but even so, I am able to make some sales.
Hello! It's Angeline; I wake up every day at 5am and take a shower and clean the house because my children are the ones who make breakfast. After this I leave the house to go sell the clothes I make. I come home at 5pm because I have lunch at the market and we have dinner at 7pm and we go to sleep a bit later because i watch tv a bit. On Sundays i go to church in the morning and rest in the afternoon
Hello! It's me, Marie Angeline. I have four children who are still in school. Two are in high school, one in middle school, and one in primary. The school entry fees are becoming more and more expensive but the children must do these studies because it is the only thing that will assure their future. I have said all this because I find that the cost of schooling has gone up too much this year. I have been preparing for this, but still it is hard, because it is the planting season and the cost of food has increased as well. But we shouldn't complain. We just keep working, because it is for the future of our children.
Hello! It's me, Rasolombololona. My little grocery story continues to do well because I seel the things that the people need. During the vacation my children are going to spend their time playing and watching television. On Independence Day, we had a different meal than usual and we ate together with all the family. We attended the celebration that the town had organized which included a parade at the stadium and speeches by the town officials.
Hello! It's me, Rasolombololona. Thank you once again for giving me more training. You give us not only money but you also give us training which is truly useful. Thanks to this business training, I have been able to reimburse my first month without difficulty because I know how to handle my money and I don't worry about the other reimbursements. Thank you.
Hello from Marie Angeline. I am thankful for receiving the latest business training. You aren't just happy for us to receive money, but you are trying to help us learn how to improve our lives with education. With the profits I earned I was able to repay the first loan installment on time. I am hoping to continue to be successful with my business so I can continue to repay the loan. Thank you for your help!
Maire Angeline here. I want to thank you and the Masomboly team for having confidence in me. I am happy because my business is going well and with the profits I will be able to change my and life and one day achieve my dreams. Thank you for your support and confidence!