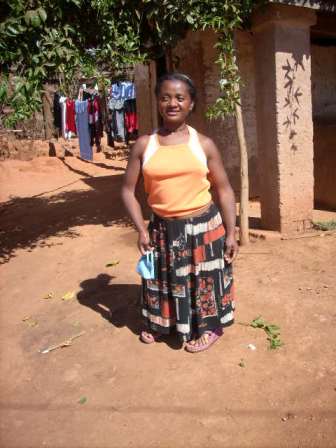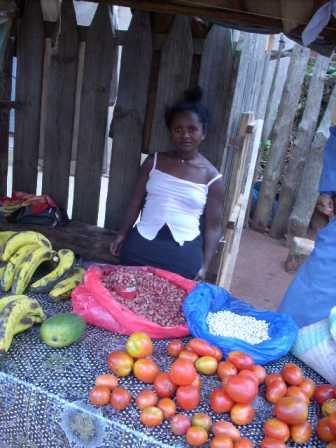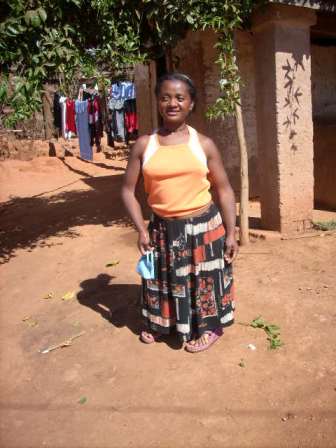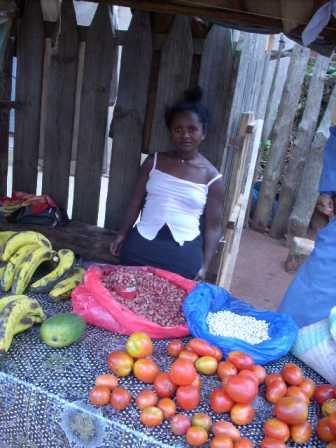 Trinkets Vendor
25 Years Old
0 Children
Single
9 Years of Schooling
My name is Razafimaharo Joeline and I am 25 years old. I am single with no children and I studied until the 9th grade. I would like to use this loan to buy small things, like pens and envelopes, that I can sell in the market on market day.
Joeline: I live in a two room apartment where one room is the bedroom and the other the dining room and kitchen. The apartment has brick walls, an aluminum roof and wooden floors. I live with my aunt and uncle and the apartment has electricity and water.
Hello from Joeline. In my family we eat rice three timess a day and I am the one who always buys the food and prepares the meals. For example, yesterday for breakfast we had rice wtih small pieces of fried beef. For lunch, we had rice with greens and pistachios and for dinner we ate the same thing as at lunch. My family's favorite food is rice with fish sauce and pineapple for dessert.
Hello! It's me Soary. The disease that my family often has is malaria. I think that the climate here is different because of the brushfires and there is not enough rain during the year. I like the winter season because that is the time of the harvest, food is plentiful and the people have money and business does very well. It is hot and rains here right now and this has negative effects on my business because people consume less and almost every afternoon we cannot leave the house.
Hello! It's me, Soary. My days are a little monotonous. I get up every morning at 4:00 a.m. in order to make breakfast and prepare the little cakes and coffee that I will sell during the day. After all that, I take a shower and get ready to go where I sell them, on the side of the road. At 11:00 a.m. I return home to prepare lunch, and after eating, I go back to continue selling. I stay until 6:00 p.m. We eat dinner at 7:00 p.m. and go to bed at 8:00 p.m. Sometimes on Saturday afternoons, I go to a meeting of my choir. On Sunday morning, I go to church and in the afternoon, there is another meeting of my choir and sometimes a meeting of Masomboly.
Hello! It's me, Rasoarimaharo. I don't have children yet who go to school, and since I am not in school either, I do not know the difference between this year and last year. But for me, my parents always prepared for these expenses in advance and it did not cause a problem for the education of their children.
Hello! It's me, Rasoarimaharo. I am happy because my business continues to do well even though the planting season is beginning. Although Independence Day is a big holiday, we did not have a huge celebration because it is important to think of the days following the holiday. But to celebrate, we went to the stadium all morning to see the parade and hear the speeches of the town officials. Afterwards, we came home and ate chicken. Then, in the afternoon were the festivities organized by the town.
Hello! It's me, Rasoarimaharo. My business continues to do well but this is the last month I will make a profit because then it will be school vacation. For me, Independence Day is the biggest celebration in our region because all the villagers have enough money to have a celebration. I will celebrate in the simplest way possible because I do not want to spend too much, since I must think of the loan reimbursement afterwards.
Hi, it's me, Joeline. I would like to thank the Masomboly team for the training that they gave us because it has really helped me manage my finances. I have used my profits to make the first loan repayment without a problem and my business is working, as always. Thank you!
Joeline here. I am happy to have this loan which will allow me to grow my business. I will be able to augment our stoks and sell more products. This business is going well and I will sell things that people are really in need of right now. Thank you for your confidence in me and with this confidence I will do my best even with my handicap. (note: Joeline has a leg that is handicapped and requires a crutch).