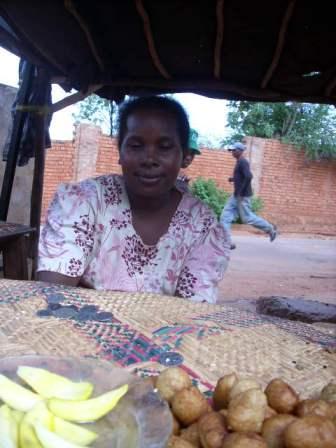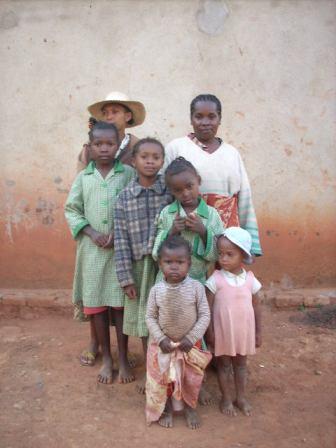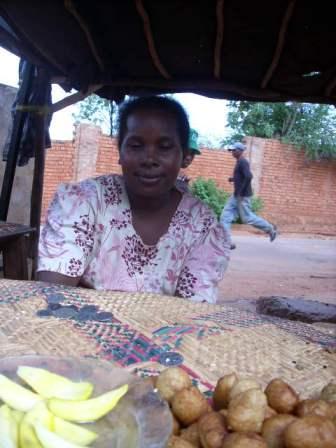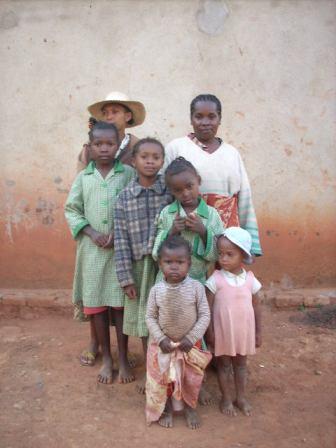 Donut Vendor
32 Years Old
4 Children
Married
5 Years of Schooling
My name is Hanta Viviane. I am 32 years old and I have some children 4 girls; they are aged from 8 months to 9 years. I live at Avaramanda since my birth and I am married. I have done studies till class seven and I am a vender of donuts, my dream is to succeed in life and have a better life so that my 4 girls have a good education.
Hanta: I live in a small, two room house with brick walls and a roof made of tiles. I cook in one of the rooms, and sleep in the other one with my family. We have electricity in the house but I must go to the public water pump to get water.
Hello from Hanta. In my family, we eat three meals a day and at each meal there is always rice. I am the one who shops for the food and my daughter cooks it. For example, yesterday we ate rice with eggs for breakfast. For lunch, we had rice with a sauce of greens and mangoes for dessert, and for dinner it was the same thing but without dessert. My family's favorite food is chicken.
Hello! It's Hanta. The disease that my family most often has is malaria. I think that the climate in Ambalavao is different because Ambalavao is in a basin. Of all the seasons, I like summer the best because it's always nice out and the business does better than now. This is the rainy period here right now, in general the business does well even during bad weather.
Hello! It's me, Hanta. Every day is the same for me except Sunday. I get up at 5:00 a.m. in order to make breakfast and do the household chores. After breakfast I make my little cakes to sell and just after that, I go out to the road where I sell them, and stay there all day. I eat lunch there and don't go back home until the evening. I go to church on Sunday.
Hello! It's me, Hanta. I have three children who go to school and I find that the cost of schooling increases each year here and also the costs of school supplies. It is a little difficult for parents even if they have already prepared, especially for the cost of the supplies which are essential. But as I have already said, one makes little sacrifices and if it is not enough, we will sacrifice even more. This is important for our children and their future.
Hello! It's me, Hanta. I am happy because my business continues to go well even though the planting season is beginning. Although Independence Day is a big celebration, we did not have a large celebration because it is important to think of the day after the celebration. But we did go to the stadium all morning to watch the parade and listen to the speeches of the town officials. We ate chicken and then in the afternoon, we went to the festivities that the town had organized. My children do not know what vacation is because they do not go to school.
Hello! It's me, Hanta. My business continues to go well but this is the last month I will make a profit because then there will be the school vacation. For me, our Independence Day is the biggest celebration in our region because all the villagers have the means to celebrate. I will celebrate this holiday in the simplest way possible because I do not wish to spend too much.
Hi, it's me, Viviane. I am happy that my business is going well and I was able to make the first loan repayment without problems this month. I hope everything will continue as it has so that I won't have any problems in repaying the rest of it. Thank you to the training that we received from the Masomboly team on how to manage our finances.
Hello from Hanta Viviane. Thank you so much for having confidence in me enough to give a second loan. With this money I will be able to sell more than just my cakes and my business will be able to expand. Your generosity and confidence has changed my life. I am very aware of this and I thank you so much!