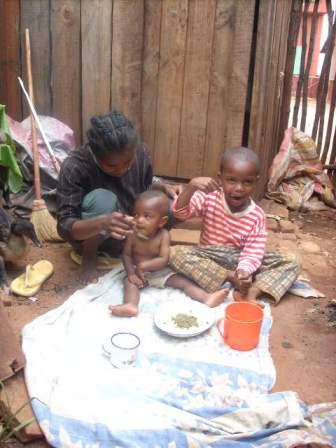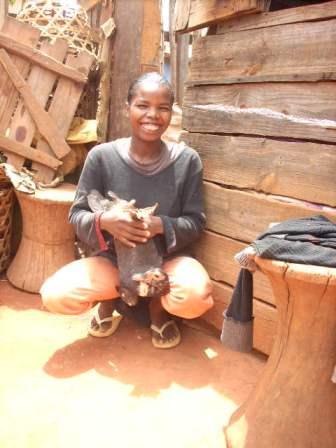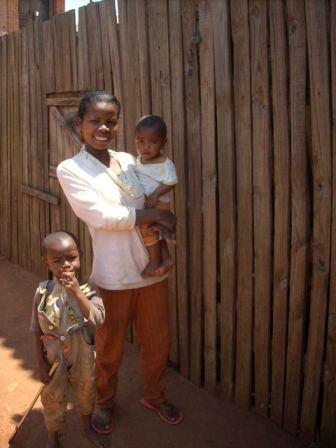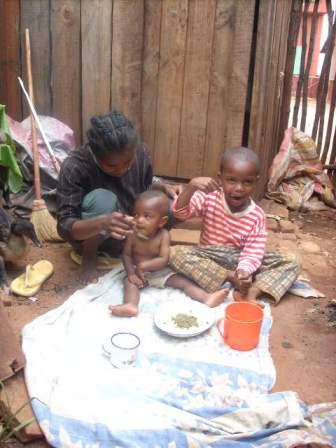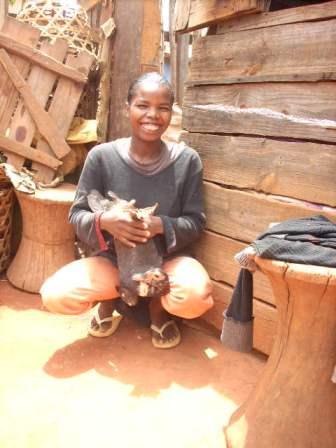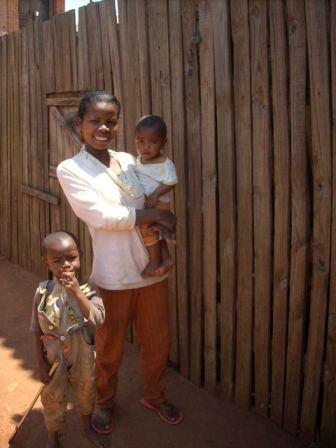 Chicken Vendor
22 Years Old
2 Children
Married
6 Years of Schooling
My name is Raharisoloniaina Fanjanirina. I'm 22 and I have 2 sons, they a re 3 and 5 years old. I have lived in Ambohijafy since birth. I am married. I studied until 6 year. I am a poultry vendor presently and I would like to use this loan to enlarge this poultry commerce. My dream is to succeed in life and that my children can study in order to have jobs.
Hello, it's me Fanjanirina. In my family we eat three meals per day. We have rice at two meals because at breakfast we always have bread and coffee. Yesterday, we had rice with fish sauce for lunch and for dinner we had rice with vegetable sauce. I am always the one who buys the food and then prepares it. The food that my family likes the most is beef and greens.
Hello! It's me, Fanja. The sickness that my family often has is cough and fever. I think the reason that the climate is different between Ambalavao and other places is due to the forest fire and there is no more forest here. Because of this climate there is a constant lack of water in Amabalavao. I like winter because it's the harvest season and business goes very well since the villagers come up to the city and they are our main clients. Also, there is plenty of food and it is cheaper. It is currently the rainy season in Ambalavao and it is very hot too. This has consequences on my business because my poultry can't stand the rain so when it rains I don't sell any. I stay at home and that's not a good sign at all although I can still make a little money.
Hi! It's me Fanja; I always get up at 6 a.m.; I go fetch water and after I do the cleaning we don't make breakfast because we buy something already made and at 7 p.m. I leave to go sell on the market and I come back at 11 a.m. to make lunch and after that I go back to the market and I come home at 5 p.m. for the preparation of dinner we eat at 7 p.m. and we go to bed after 9 p.m. because I watch a bit of TV, the majority of my day is at the market exept Sunday I go to church in the morning and the afternoon it's laundry.
Hello! It's me, Raharisolonianina. I don't have any children yet to who to school but I already know that the schooling of children is difficult because one must spend almost all the profit one makes in six months. And that is only for the start of school and does not include the fee if a child is in private school. But for children to learn, it is necessary for them to go to school and so we work for their future and well being.
Hello! It's me, Raharisoloniaina. My business continues to do well even though sales are down a little because the holiday celebration is over. My children are still little; thus they don't know what to do during the vacation. For the Independence Day celebration, we had a big celebration with my large family and everybody was happy because we had lunch together.
Hello! It's me, Raharisoloniaina. My business continues to go well and this brings me pleasure. I continue to earn a profit and I will be able to celebrate our national Indpeendence Day which is is the biggest celebration in our region. I will enjoy it because it is the only celebration that we have during this harvest period and people have enough money - but I won't spend too too much money. Long live Independence Day!
Fanjanirina here. I am happy because I was able to repay on time the first loan installment and I have some money left over as well. My business is going great. The training helped me learn more about how to plan my expenses and handle my finances. I am not tired of thanking all of you funders and the people who work so hard with us for our good. Thank you!
Hello from Franjanirina. My business selling poultry is going well. I am earning more profit than before because I am buying directly from the farmers now because of the business I started with my last loan. And you know what? Because you have helped me again with a new loan, I have more to invest and that is thanks to your confidence in me. Thanks to all of the funders and the Masomboly team, may God bless you all. Thank you!