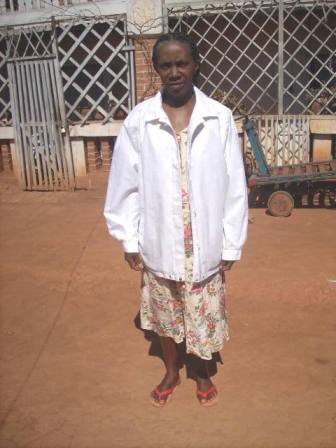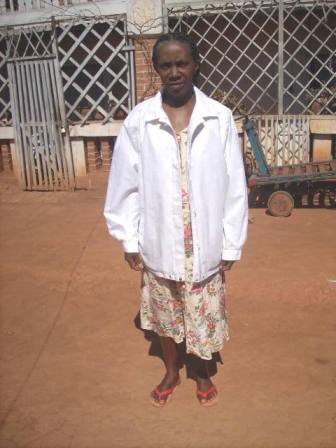 Fruit Vendor
49 Years Old
4 Children
Divorced
5 Years of Schooling
My name is Rajoma Florine. I'm 49 years old and I have 4 children, 1 daughter and 3 sons; they are aged 9 to 30 years old. I've lived in Ambohijafy for two years now. I am divorced. I studied in school until 5th grade. I am a fruits merchant now and I'd like to use this loan to increase my commerce, my products are not enough to sell in one day and I want to stock up because I don't have much money but this loan would help a lot. My dream is to have a better life than I do now and for all my children to go to school and finish their education so that they may know more than I do and we will live in comfort.
Hello! It's me, Rajoma. I have one child who still goes to school but I don't think that will pose a problem. I know that the cost of schooling and school supplies increases each year and I have already prepared for this since the vacation. Since my child is still in primary school he does not need a lot of things - only a notebook and pen. Each year the cost of schooling goes up.
Hello! It's me, Rajoma. Business continues to go well at this time. For the vacation, my children are going to help with the sales and preparing the things to sell, as well as with household chores. To celebrate Independence Day, we did different things than we normally do: we ate chicken and in the morning we went to the stadium to watch the parade. The entire family ate together.
Hello! It's me, Razafimalala. My little restaurant continues to do well and I think that this month will be even better because of our Independence Day celebration. For me, this will be a celebration like all the others - we will eat good food and the children will have nice clothes, but I will not spend too much.
Hello! It's me, Rajoma. The month of June is the month which has the biggest celebration (Independence Day) in our Betsileo region. Everybody celebrates it more than Christmas or the New Year, because it is at this time they have finished the harvest and they are able to spend their money without worrying. Thus, I profit from this and earn even more( laugh). We will celebrate like we always do, by eating good food and the children will have new clothes. But I will not spend too much.
Hi, it's me, Florine. I am happy that my business is working so well and that I have been able to make my first loan repayment without a problem. I hope things will continue like this and that I won't have any problems in reimbursing the rest. Thank you for the training that the Masomboly team gave us to help us manage our finances.
Florine here. I am happy because my business is doing well and I have already gained more profit since the last couple months. I want to thank all of the funders who have given me this second loan. It is helping me a lot and I will be able to sell much more and make more profits. Thanks to your generosity my life is improving. Thank you!