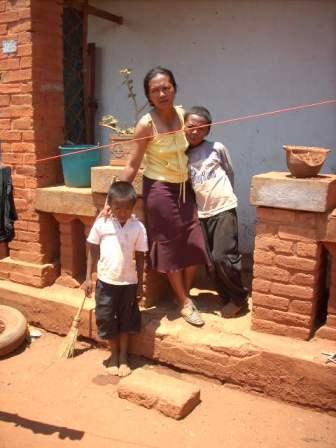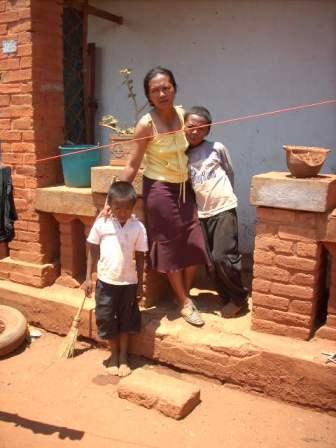 Donut Vendor
42 Years Old
2 Children
Single
12 Years of Schooling
My name is Ralalanirina Simone Elysette. I am 42 years old and I have 2 boys; their ages are from 8 to 18 years. I live at Ambohijafy since 10 years. I am single, I have done any studies till class twelve and I am a teacher right now. I would like to use this loan to continue my business in my school to earn money to help my boys finish their studies in university. My dream is to see my children succeed in their studies and get a job.
Hello from Simone. In my family, I am the one who always does the shopping and prepares the meals. For example, yesterday we had rice with eggs for breakfast as well as a cup of coffee. For lunch, we had rice with a vegetable sauce and for dinner we had rice with a bean sauce. My family's favorite food is rice with zebu meat (beef) with a sauce of greens.
Hello! It's Simone. The sickness that my family often has is malaria. The climate of Amabalavao is different from other places because of it's environment, I think, since here people always make brush fires without worrying about the consequences that it will have on the climate. It is also because of this that we have a problem with the water in Amabalavao as the climate changes a lot and it doesn't rain enough. I like winter because it's fresh out and you are at ease and you feel good. What's more, it's the harvest period so there is a lot of food and it is less expensive. It is hot and it rains a lot now, but this has no impact on my job since I work in a school and the students are my clients so everything is fine.
Hi! It's Simone; my day starts at 5:30 a.m. I go fetch water and after I prepare breakfast and lunch also because I work from 7-12 a.m. and I don't have much time to prepare lunch; my lesson starts at 7 a.m. until 12 a.m. and the children finish school at 12 a.m. and they have to return at 1 p.m. it's why I prepare lunch in the morning and keep it warm; the afternoon I return to school and I give my lessons from 2- 6 p.m. and I go to bed late at night as I prepare the things to sell at school for the next day; it's always like this exept Sunday as the morning it's church and the after noon it's laundry and the reunion.
Hello! It's me, Ralalaririna.I have two children who are still in school. One is already in university and the other is in secondary school. For me, it is not at all easy because at university we need to pay each month because the amount of scholarship aid is very small. One is not even able to buy a tenth of the things one needs for study with the scholarship. It is not easy, but parents are willing to sacrifice for their children because we wish them to have a brilliant future. As for me, I am a parent who only thinks of the well being of my children adn I am willing to pay for that, because I did not have the opportunity that they have now.
Hello! It's me, Ralalaniurina. My business continues to go well even though I changed some things because since school is finished, I am no longer able to sell snacks. Thus, now I am making fried wantons and I sell them. During the vacation my children are going to spend their time playing games like basketball or soccer. They also help me a little in my business. For Independence Day, we celebrated, but it was only a small celebration. We all ate together and then the children went to the celebration that the town hall had organized.
Hello! It's me, Ralalanirina. My business continues to go well but it is the last month of school and I will only be able to sell my snacks again in the month of September. I am obliged to do something else for my money. But it is not too serious because I will be able to sell small cakes in front of my house for these few weeks. I will try to earn enough profit so that I can celebrate Independence Day, but without spending too much.
Hello from Simone Elysette. I am so happy because I have been able to repay the first loan installment without difficulty thanks to the training that Masomboly has provided. I want to thank you again for your help because you are not just content to give us money but you are also giving us education and knowledge that we can use to improve our lives. Thank you!
Hello from Elysette. Thank you for your confidence in me and for giving a second loan. I am happy because I have been able to sell more than just small cakes at my school and I am making good profit. The loan that you provided has saved me and I thank you for your generosity and confidence. I feel confident that my life will change even more during these next six months thanks to you and the Masomboly team!