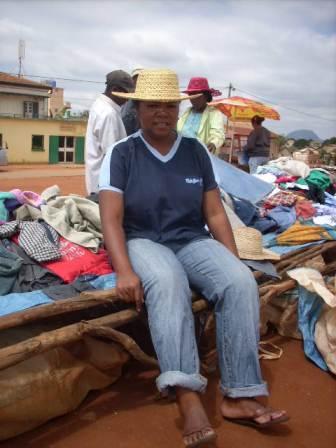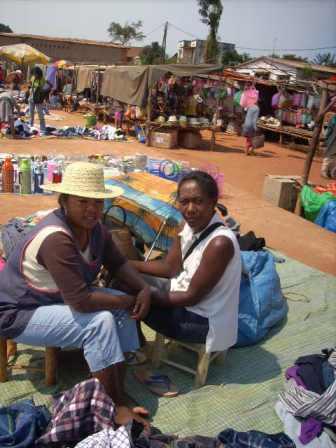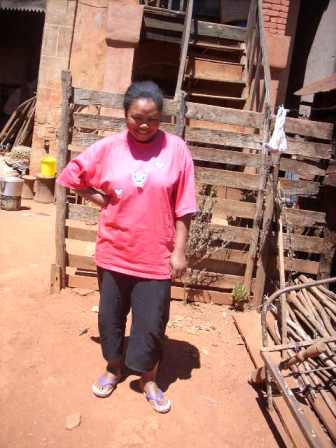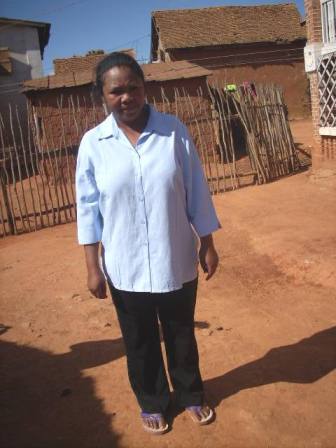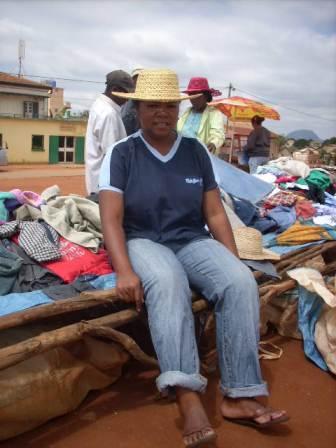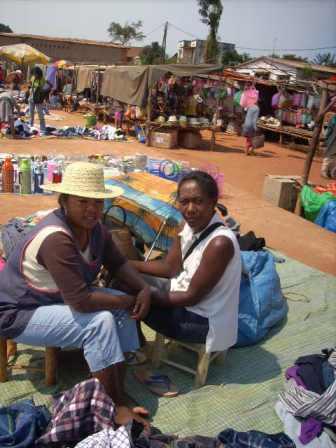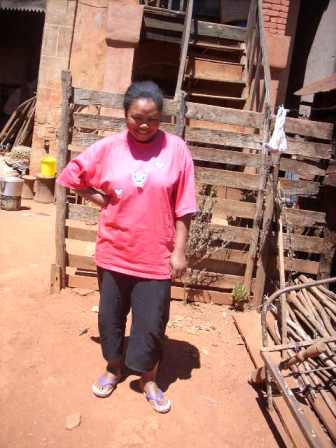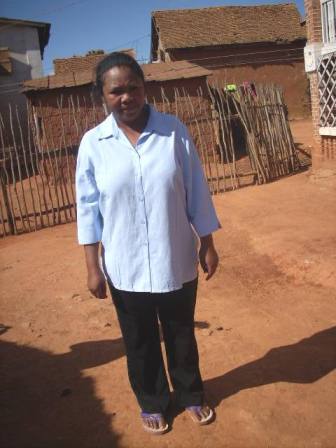 Beauty Products
37 Years Old
2 Children
Married
12 Years of Schooling
My name is Rasoanantenaina Samelie. I am 37 years old. I have 2 boys ; they are aged from 7 to 11 years. I live in Avaramanda since 12 years and I am married. I have studied till class twelve and I am a business person at this point. I would like to use this loan to do business of products of beauty and of sandals. My dream is to have a better life and to success so that my two boys are able to continue their education to ensure their future.
Samelie: I live in a three room apartment with brick walls, aluminum sheets on the roof and wooden floors. The rooms are divided into a bedroom, a kitchen and a dining room. I live with my family and we have electricity and water in the house.
Hello from Samelie. In my family I am the one who buys the food and prepares it. Yesterday, for breakfast we ate rice with an omelet. For lunch we had rice with pork sauce and for dinner we had rice with a sauce of greens. The thing my family likes to eat the most is rice with fish sauce and either bananas or pineapple for dessert.
Hi! It's Samelie. It's malaria that my family suffers from the most often. I think that the climate here is different because we are in the southern zones and also because we are surrounded by mountains. I like winter the best because it's the harvest season and the villagers have money and business does beautifully. It's hot here and it rains a lot right now and this has an impact on my business because I can't stay in the market all day and more people don't have money and buy less clothes.
Hello! It's me, Samelie. I get up at 5:30 a.m. to get breakfast ready. After that I do the housework and feed the chickens. Then I get the children ready for school and we leave the house together. I go to the market to sell the used clothing. I don't go home for lunch, but stay at the market all day and eat lunch there. I go back home at 5:00 p.m. to prepare dinner. We eat about 7:00 p.m., then watch the news on the television and afterwards go to bed. On Sunday, I go to church and in the afternoon, I do the laundry.
Hello! It's me, Rasoanantenaina. I have two children who go to school. One is in primary school, and the other is in high school. I have already saved some money for this and I think that I have enough to pay their entry fees and to buy the supplies they need even though the cost of schooling and the supplies has increased. I find that each year the cost becomes more and more expensive and sometimes this poses a problem for parents because they must spend more than they had planned. But we have to do it because it is for their future and their education.
Hello! It's me, Rasoanantenanina. My sale of used clothing is going well at this time even though the prices have gone down a little because it is after the holiday. Regarding the vacation, my child is still little so he does not know about vacation, but even so, he spends his time playing. For the Independence Day celebration, we went to the stadium in the morning to watch the parade and then we had lunch with the family of my husband. In the afternoon, we stayed at home.
Hello! It's me, Rasoanantenanina. This month of June is the last month that business will go so well because it is the end of the harvest. After our national Independence Day, the people begin the next agricultural season and they spend less money for things except for seeds. For me, I will celebrate this holiday like all the others - we will eat good things and the children will have nice clothes.But that is all, because I do not want to spend too much on just one day.
Hi, it's me, Samelie. I am happy that my business is going well and I was able to repay the first loan installment without a problem. I hope everything will continue like this and that I won't have any difficulties in making these repayments. Thank you for the training that we received from the Masomboly team to help us manage our finances.
Samlie here. I am happy because this loan you have given me will allow me to contine my business and gain more profits. Thank you again for your confidence in me and your help because it has truly changed me life.