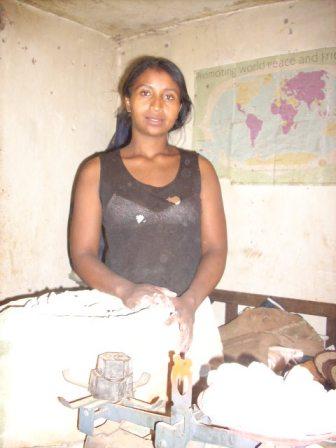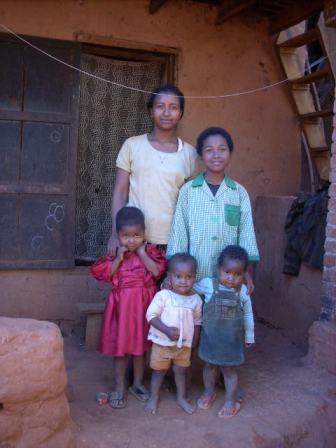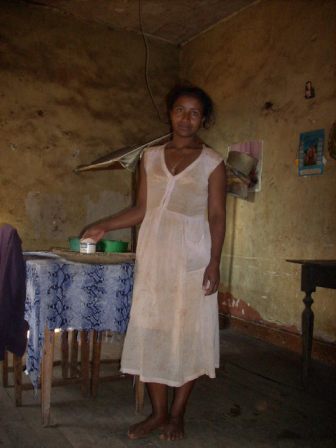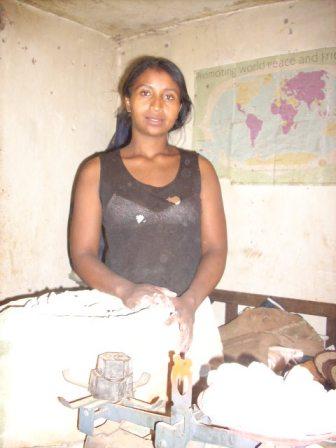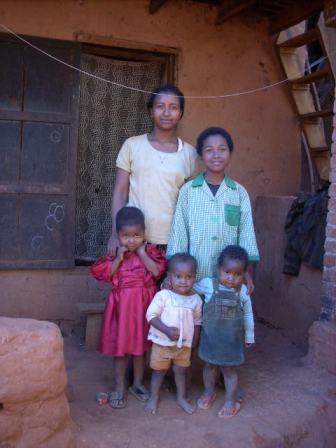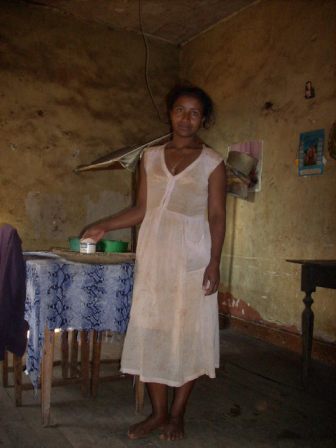 Rice Vendor
26 Years Old
5 Children
Married
0 Years of Schooling
My name is Rasoarinirina Hanita Eliane. I am 26 and have 5 children, 2 girls and 3 boys. Their ages are between 2 and 10 years. I have lived Avaramanda since birth. I'm married. I never went to school. I am a laundry woman presently. I would like to use this loan to continue my rice sales. My dream is to continue my effort for my family to have everything they need, to have a better life and I would like for all my children to go to school.
This is Eliane. I live in a two room house with walls made of brick, a tiled roof, and a clay floor on which I place straw mats. One of the rooms serves as the bedroom while the other one is used as a kitchen and dining room. I live in the house with my husband and children. There is neither running water nor electricity in the house so I must get water twice a day from a public water pump. We use gasoline for lighting.
Hello from Hanitra Eliane. In my family we eat three meals a day and I am always the one who buys the food and prepares the meals. For example, yesterday for breakfast we ate rice with greens. For lunch, we had rice with pork and ground leafy greens and we then had the same thing for dinner. My family's favorite food is chicken and sauce.
Hello! It's Eliane. The sickness that my family often has is diarrhea and malaria. I don't really know why the climate is different here but maybe it's because of the mountains. The season that I like the most is winter because that is our harvesting season. At the moment, it is hot and rains a lot. This is good for daily life because we always have water now but it is bad for my business because when it rains I cannot sell.
Hello! It's me, Eliane. I get up at 4:30 a.m. in order to go get water and to make breakfast. At 6:00 a.m. I go to church each day to attend mass. After church, about 7:00 a.m., I get the children ready for school, and after they leave, I go to the market to buy food for lunch. When I get home, I cook lunch and sell the charcoal. In the afternoon, I do the laundry or other things, and continue to sell charcoal. We eat dinner at 7:00 p.m. and go to bed right after. On Sundays, I go to church in the morning, and sometimes in the afternoon there is a meeting of Masomboly.
Hello! It's me, Rasooanirina. I have two children who go to school and they are still in primary school. I have already saved money for them to start school and I think that I have enough for their entry fees and to buy their school supplies even though the cost of schooling and school supplies has increased. I find that each year the cost becomes more and more expensive and sometimes this causes a problem for parents because they have to spend more than they planned. Then they have to sacrifice other things to pay these expenses. But it is worth it because my children are going to learn to read and write. I want them to have more knowledge than I have because I did not have this opportunity.
Hello! It's me, Rasoanirina. I am happy because my business continues to do well even though it is the period of planting. Independence Day is an important holiday, but we did not have a big celebration because it is necessary to think of the days after the holiday. However, we celebrated by going to the stadium all morning to watch the parade and hear the speeches of the town officials. Afterwards, we came home and ate something different than we normally do: chicken. Then, in the afternoon the children attended the festivities that the town had organized. For the vacation, my children are going to stay here because they are little and they do not even understand what a vacation is.
Hello! It's me, Rasoanirina. I am happy because my business continues to do well. Independence Day is a big celebration here because it is the time that all the villagers have the means to celebrate like the rest of the world, since it is the end of the harvest. For me, I do not plan big things. I just want to have something different to eat and the children to have good clothes, because it is also important to think of the days afterwards and the reimbursement of the loan.
Hi, it's me, Hanitra. I am happy to have been able to make the first loan repayment this month and that I have still had some profits left over which means that my business has been working well. Hopefully, I won't have any problems in making the other repayments. Thank you also for the training we received from the Masomboly team to manage our finances.
Hanitra here. I want to thank all of the funders for their confidence in me. My rice selling business is going well and I have been earning a good profit. I was able to buy a fewe things for my home and I have saved some as well. Thank you for your confidence and your generosity!