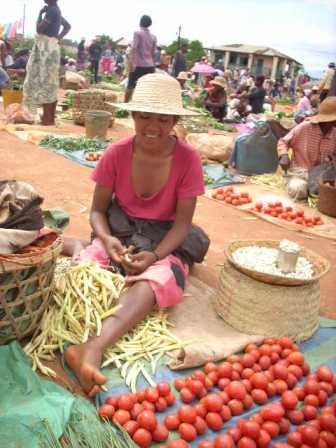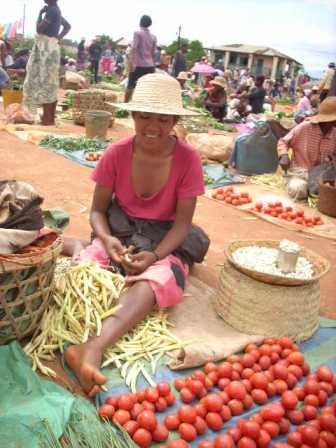 Fruit Vendor
23 Years Old
1 Child
Single
7 Years of Schooling
My name is Rasoloniaina Patricia. I'm 23 years old. I have one son; he is six years old. I'd lived in Ambohijafy since I was born and I am single. I studied in school until 7th grade. I am now a merchant of veggies and fruits and I'd like to use this commerce to win more money. My dream is to have a house; I'd also like to see if is my son can go to school to study and that he may grow with education and a job.
Patricia: I live in a small house with two rooms, a bedroom and a kitchen/dining room. I live here with my husband and our kids. The house has brick walls, aluminum sheets on the roof and dirt floors. We use either candles or gas for lighting and the kids get water from the commune pump once a day.
Hello from Patricia. In my family we eat three times a day and I am the one who always buys the food and prepares it. Yesterday for breakfast we had rice with peanuts. For lunch we had rice with a vegetable sauce and for dinner we had rice with peas. The thing my family likes to eat the most is rice with bean sauce and bananas for dessert.
Hello! It's me, Patricia. The illness that my family has often is the flu. The climate of Ambalavao is different than in other places because the environment is destroyed here, and this has a big consequence on the climate. About the seasons, I think I like the rain period the most because there is water and we do not have to go far to get it. Right now, it is hot and it rains a lot. This affects my business, because I get less customers than in the other seasons, but it's not too bad because we have water and that is the most important.
Hi! It's me Patricia my day is a bit like this in general, I get up at 5:30 a.m. to go fetch water, I clean the house and after I leave right away to the market to buy the things to sell as it's importatnt to get there early to get the best product and it's on the market that I get coffee and mofo for my breakfast; I stay at the market to sell my vegetables all day and I only go home at 6 p.m. and I make dinner right away and we eat at 7 p.m. and I go to sleep right after dinner because the day is hard with the sun, Sunday I go to church in the morning and in the afternoon it's laundry or reunion.
Hello! It's me, Rasoloninaina. The vacation is almost over the everybody is beginning to worry about school starting because this year the price of schooling has gone up more than in past year. I have only one child who goes to school, but I have already prepared for this beginning a few months ago so I do not have any worry about having enough money for their schooling and supplies. I promise to you that it is not easy, and parents sacrifice much so that their children can go to school because it is their future.
Hello! It's me, Rasoloninaina. I am happy because my business continues to do well even though sales have gone down. For the vacation,the young children are going to spend their time playing and the older ones will help their parents with household tasks and their business. For Independence Day, in the morning we went to the stadium for the parade and then we had lunch. In the afternoon, the children went to the celebration that the town had organized.
Hello! It's me, Rasoloninaina. I am happy because my business continues to go well This month of June is the last month where we will make a profit because afterwards is the planting season and we won't have any more profits. We need to earn money now, because the price is going to diminish. For me, Independence Day is the biggest celebration in the Betsileo region. Thus, I am planning to celebrate and I am proud because this day marks our independence. But we will not spend too much.
Hello from Patricia. I am happy that my business is going well and I have repaid the first loan installment. I have some money left over and with the money I have earned now I believe that I should be able to repay the next installment as well. I am thankful for the training I received as well because it helped us learn how to better handle our finances. Thank you!
Patricia here. I am happy to receive this loan because my business is going well and I can now augment the number of chickens I can sell and gain even more profit. I will be able to help my husband in providing for the need of the home and the studying of my children. Thank you again for your help and confidence in me. I want to thank especially all of the funders of Masomboly!