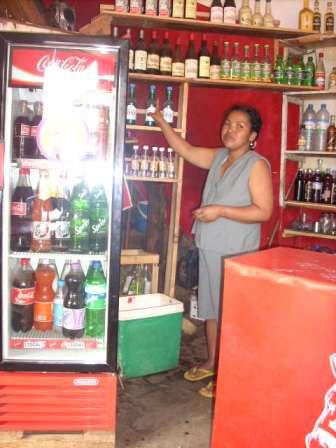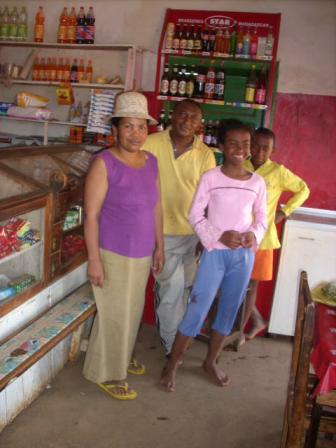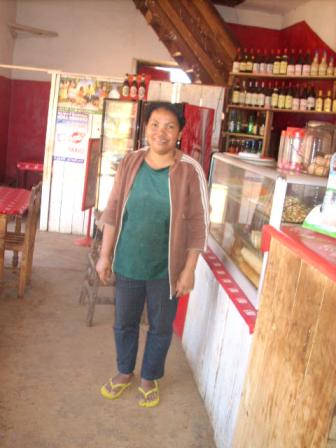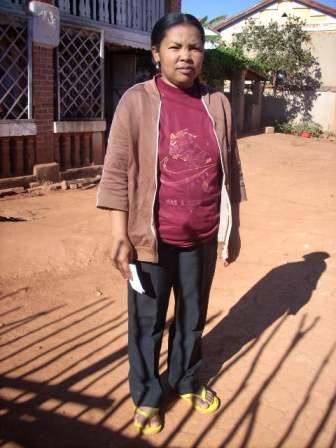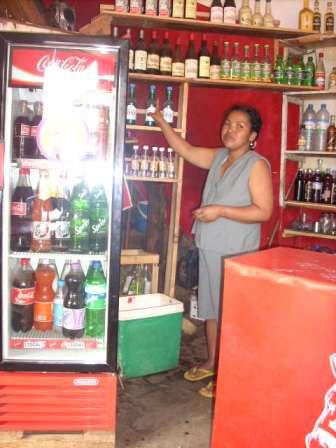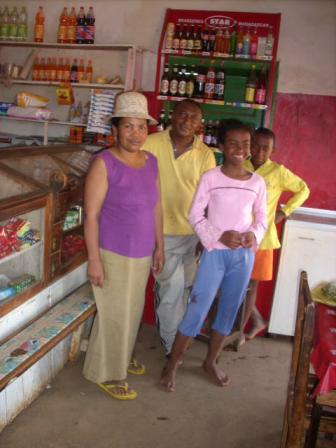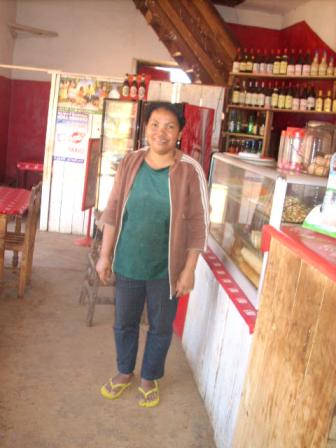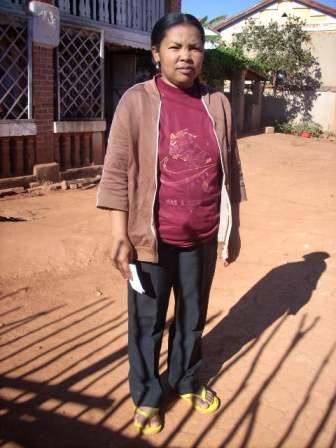 Bar owner
41 Years Old
4 Children
Married
12 Years of Schooling
My name is Rasombiniaina Vololona. I am 40 years old. I have 4 children; 1 son and 3 girls. They are aged from 11 to 18 years. I've lived in Ambohijafy for 17 years. I am married. I graduated from high school. I run a bar with my husband at the moment and I'd like to use this loan to expand our business. My dream is to see my children grow and find jobs so that they may be independent and have a better life than we do now.
Vololona: I live in a house that has four rooms. One is a bedroom, one is a living room, there is a kitchen/dining room, and the last room is where we have our store. The house has cement floors, aluminum on the roof and walls made from brick. I live here with my family and we have electricity and water in the house.
Hello from Vololona. In my family we eat three times a day: breakfast, lunch and a snack for dinner. For example, yesterday , for breakfast we ate rice with small pieces of fried beef and for lunch we had rice with a sauce of peas and tomatoes, and bananas for dessert. For dinner it was the same thing as lunch. We normally eat the same thing for lunch and dinner. My husband is the one who does the shopping and I am the one who cooks the food. The thing that my family likes to eat the most is pork with vegetables.
Hello! It's me, Vololona. The sickness that my family often has is a cough. The climate of Ambalavao is different because there are no forests and it is surrounded by mountains. I prefer the winter because it is the period of then harvest and it is when business is the best. It is hot and it rains a lot here at the moment but I like that too because the ice cream sales and the fresh juice sales do very well. The climate at this moment has no consequence on my business because it works well.
Hi! It's me Vololona. Me, I get up at 5 a.m. when my day starts with the preparation of breakfast and at the same time I do the cleaning, I take my shower, and I eat breakfast; at 6:30 I open my grocers' shop and it's in my grocers' shop that I prepare everything else to sell with alcohol just like sausages and kitoza and also different vegetable archars; I eat lunch there too, in general I stay there all day and I only close at 8 p.m. I eat dinner at around 8:30 p.m. and right after I go to bed because the day is long and Sunday my shop is closed because I go to church and in the afternoon I stay with my family because it's the only day we are together.
Hello! It's me, Rasombiniaina. I have five children who are still in school. One is in university, one is in high school and the others are in still in middle school. It is not at all easy for parents like us because it is always us who pays for the one at university. The scholarship is not enough. And for the others, it is the same, and in addition, they need a lot of school supplies which cost a lot at the moment. Also, even if one prepares and saves in advance, there are always additional items that are not planned for. But it is for the future of our children, so we do everything we can for them, even if it is hard.
Hello, it's me, Rasombiniaina. My business is going well as usual. For the vacation, my children are going away. For the Independence Day celebration, all our family got together. In the morning we went to the stadium to attend the speeches and the parade. Afterwards we ate lunch all together and in the afternoon, the children went to the festivities that the town had organized.
Hello! It's me, Rasombiniaina. My business continues to do well and it seems even better this month because everyone needs to buy something to drink for the Independence Day celebration. For me, this will be a celebration like all the others, and I will not spend more than planned because it is always necessary to think of the time after the holiday.
Hi, it's me, Vololona. Thank you for the training that the Masomboly team gave us. Not only do you give us loans, but you also provide us with trainings that are very useful to budget our business. I was able to make my first repayment without a problem because I am able to manage my money well. Thank you!
Hello from Vololona. Thank you for having confidence in me again and for this second loan. I am happy because I will be able to expand my bar which is doing great business right now. Since I have been with Masomboly my family life has changed. My husband and I get along much better because I am able to contribute to the household even more. Now we don't argue over money as we did before. All of this is thanks to your generosity. Thank you!