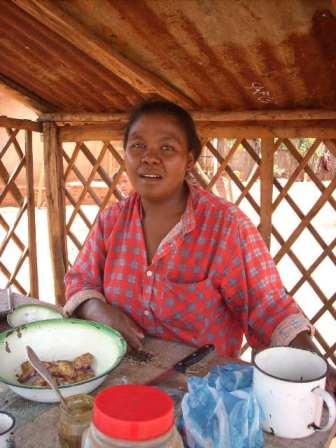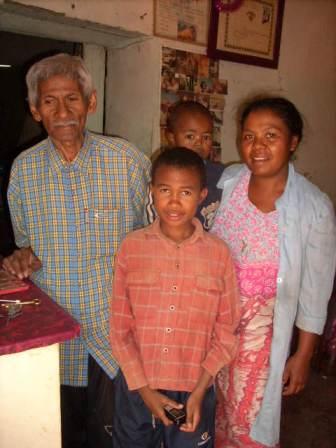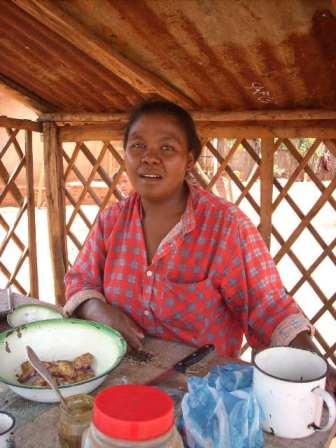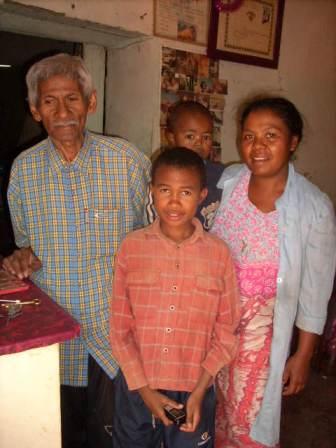 Donut Vendor
35 Years Old
2 Children
Single
9 Years of Schooling
My name is Razafimaharo Louisette; I am 35 years old and I have 2 children, 1 girl and 1 boy; their ages are from 4 to 12 years. I live at Ambohijafy since 30 years. I am single. I have done my studies till class three. I am a vender of donuts right now and I would like to use this loan to enlarge my business. My dream is to have a better life so that my children can study more than I did and they grow up and do comfortable work that assures their future.
Hello from Louisette. In my family, I am the one who always buys the food and prepares the meals. For example, yesterday for breakfast, we ate bread with coffee. For lunch, we had rice with bean sauce and mangoes for dessert. For dinner, we had the same thing as for lunch. My family's favorite food is meat with pork sauce.
Hello! It's Louisette. In my family, it's diarrhea that they often have. Ambalavao has a different climate because it is surrounded by mountains. I like it when it is hot because I am in full health. It is very hot and rains a lot here at the moment. That has a consequence on my business because I cannot sell all day and my mofo (Malagasy bread) and the other fruits rot and my business doesn't do very well when there is bad weather like this.
Hello! It's me, Louisette. I get up at 5 a.m. each morning to go get water. After that, I make breakfast. At the same time I do the housework and then we eat. I get the children ready to go to school, and when they have gone, I go to the market to buy the things that I need for my sales that day. When I return, I make little cakes and coffee, and mixed vegetables which I sell in my little restaurant. I go there at 8:00 a.m. and stay there until 5 p.m. I make my lunch there and eat there as well. We eat dinner at 7:00 p.m., then watch a little television, and afterwards go to bed at 9:00 p.m. I even work on Sundays except for the times when there is a meeting in the afternoon.
Hello! It's me, Razafimaharo. I have two children who go to school. They are still in primary school. I have already been saving for the expenses of going back to school and I think that that I have enough to pay for them to enter and to buy their school supplies, even though the cost of schooling and supplies has increased. I find that each year the price becomes more and more expensive, and that is hard for parents, because sometimes we even have to spend more than we had planned and have to sacrifice other things. But it is important for their future.
Hello! It's me, Razafimaharo. My little restaurant is doing well, even though it is vacation. During the vacation my children are going to stay here and will spend their time playing and helping me in the restaurant and with household chores. For the Independence Day celebration, we went to the stadium in the morning to watch the parade and hear the speeches, and then in the afternoon the children went to the festivities the town had organized. We ate chicken for lunch.
Hello!l It's me, Razafimaharo. My little restaurant continues to do well and I think it will even do better this month because it is our national Independence Day. For me, this will be a celebration like all the others. We will eat good food and the children will wear nice clothes, but I will not spend too much money.
Hi, it's me, Louisette. Thank you for the training that we received from the Masomboly team because it really helped us. I have been able to make my first loan repayment with my profit and I was able to buy some chickens to tend, now that I know how to better manage my finances!
Louisette here. Thank you for having confidence in me and for giving me more money and a second chance to continue building my dreams. I have been able to enlarge my small snack shop and now I have bought some poultry to raise and sell. It give me much pleasure and encourages me to continue on. Thank you for your generosity!