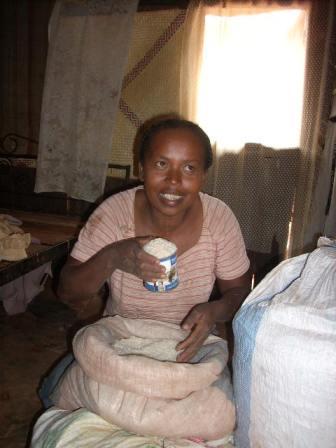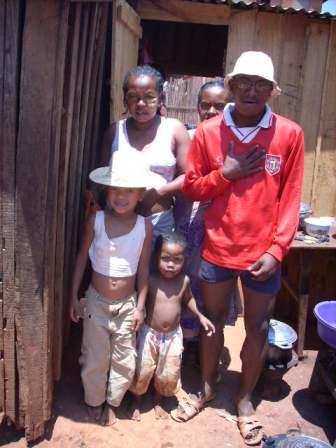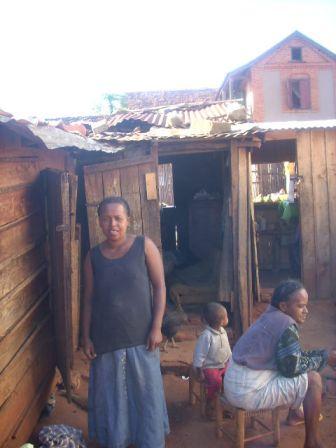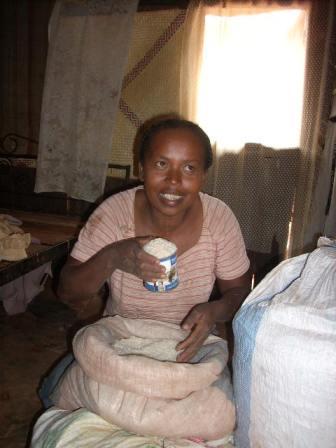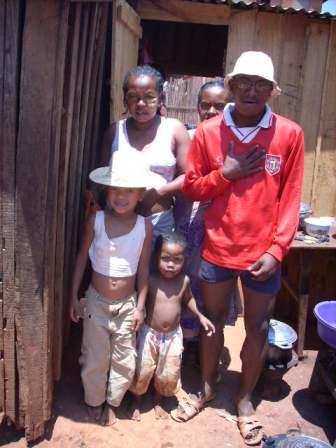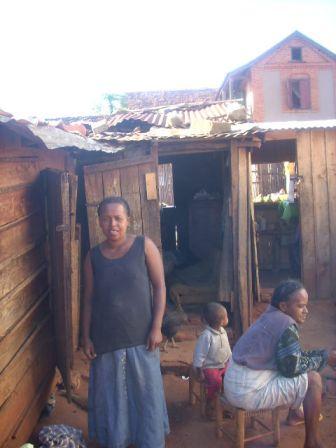 Trinkets Vendor
35 Years Old
3 Children
Divorced
9 Years of Schooling
My name is Razafimandimby Rosette. I'm 35 years old. I have 3 children; 2 girls and one boy; they are aged from 2 to 9 years old. I've lived in Ambohijafy since I was born. I am divorced. I went to school until 10th grade. I am a traveling salesman at the moment. I'd like to use this loan to increase the products that I sell. My dream is to be able to take good care of my children and that they may all go to school and study; have a better life.
Rosette: I live in a small, wooden house with cement floors and aluminum sheets on the roof. There are two rooms in the house, one a bedroom and the other a dining room. We cook outdoors. I live with my parents, my brothers and sisters and my children. There is electricity in the house but I get water twice a day from the public water pump.
Rosette was not available for interview in January.
Hello! Its Rosette. My family generally suffers from toothaches. I believe that the Ambalavao climate is different from those elsewhere because we are surrounded by mountains. Although it is rainy season, there isn't enough water here, which is one of Ambalavao's greatest problems. Yet I enjoy the winter because it is the season when my business is doing well because it's the period of the harvest. My business is not doing that well though because it is raining so I can't sell my products. This is why I have begun cultivating rice.
Hi! It's me Rosette; my life from day-to-day always depends on where I am leaving as I move around a lot due to my business, when I am here at Ambalavao I always get up at 5:30 a.m. to start my busy day, as soon as I get up I make breakfast for my family and while it cooks I get water and after this I prepare the products to sell, after all this I take out my products to sell in front of my house, I go to the market to buy lunch, and I go home to prepare lunch and at the same time I can sell my products as well, and the afternoon I stay in front of my stand and the night it's always me that makes dinner and we always sleep early because the next morning, everything will start again.
Hello. It's me, Rasafimandimby. I have already prepared for the return to school (la rentree) some months ago and I don't think I have will have any difficulty. I only have two children who go to school and they are in primary. Even so, I know that the price of schooling has gone up this year as well as the cost of school supplies. Happily, I have made little sacrifices along the way for this. Parents always make sacrifices for their children so they will have a good future.
Hello! It's me, Razafimandimby. My business continues to do well even during though the planting season has begun. The price of all the products that I sell has gone up. My children are going to go to Fianarantsoa for this vacation (a larger town about an hour away.) Like every year, my sister comes here to pick them up. This year, we did not celebrate Independence Day as we normally do because we were in mourning. My brother was killed a few days before.
Hello! It's me, Razafimandimby. My business is still going well and I have earned even more profit than last month. But I have a problem. My big brother died and I must help my parents with their expenses and I think I will not be able to celebrate our Independence Day. All of our family will be in mourning. It is really too bad but that is life.
Hello from Rosette. I am so glad that I was able to reimburse the first installment of my loan this first month becase it has been a difficult month. But I have been able to rely on my savings and I've tried to economize. The business training helped because I have never received much education about how to save up my money. Thanks again for everything!
Hello, it is Rosette. I want to thank all of the funders who continue to show confidence in my business. I sell my products in the villages and now that the rice is being harvested, the villagers have more money to spend, so my business is going well. The profits from this business have already helped me improve the lives of my family and I thank you for your support!