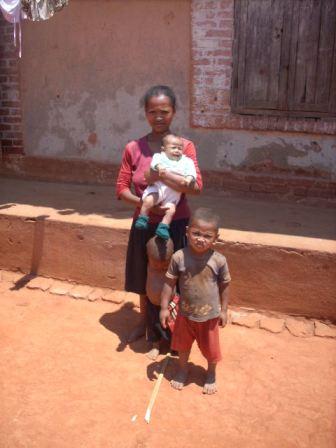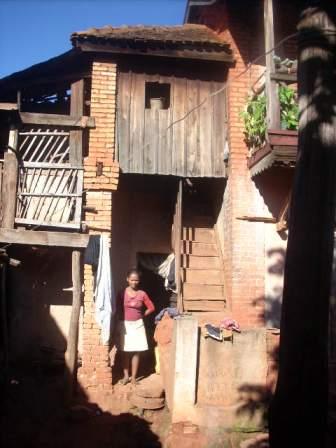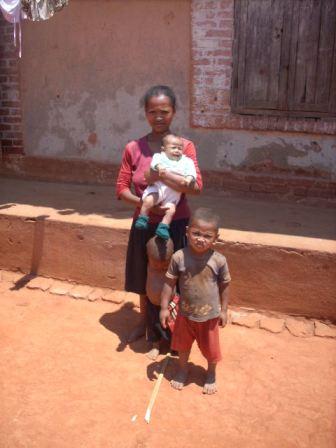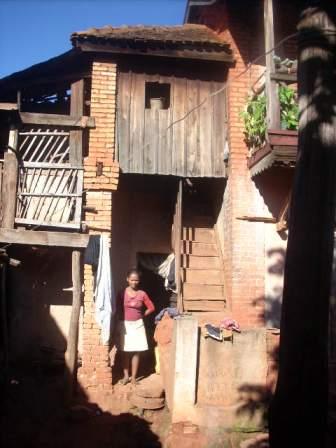 Chicken Vendor
21 Years Old
2 Children
Married
7 Years of Schooling
My name is Razafinirina Marie Sylvia. I am 21. I have 2 sons. They are 11 months and 4 years old. I have been living at Ambohijafy since birth. I am married. I have studied until year 5. Right now I sell poultry. I will continue to use my loan for this poultry business so that I can provide poultry to the hotel here. My dream is to have a better life and that my family lives happily and my children grow with love and that I succeed in life for my 2 kids.
Sylvia: I live in a two room apartment with a bedroom and a kitchen/dining room. There are brick walls, aluminum sheets on the roof and dirt floors. I live here with my family and although we don't have electricity, we do have water in the house.
Hello from Sylvia. Normally we eat three meals a day and we have rice at each meal. For example, yesterday for breakfast we had rice with small pieces of fried beef; for lunch we had rice with fried vegetables and for dinner we had rice with ground leafy greens. My family's favorite food is pork with carrots.
Hello! It's Silvia. My family is generally affected by headaches. Ambalavao's climate is different from those of other regions because this area is surrounded by mountains. I like the wintertime because it is the harvest season and my business generally does well because our clients have money from the harvest and the food is less expensive. It's the rainy period here in Ambalavao yet there is still not a lot of water. Nonetheless, we're doing ok because the rain falls only in the afternoon and usually at night.
Hello! It's me Sylvia; I make a schedule so that my day is well filled and so I don't forget to do anything; I get up at 6 in the morning; I prepare the breakfast and do the housework, I leave the house everyday at 7to go to sell at the market and I return at 11h to prepare lunch for my family and we eat at noon and right after I return to the market to sell and I come home at 5 to complete the task of mother by preparing dinner and we always eat at 7 the evening and sleep at 9, my day is always like this, it is my life except Sunday is because in the morning we have church and in the afternoon I rest or do the laundry.
Hello! It's me, Razafinirina. I don't have any children yet, but already I know that the cost of schooling is difficult because it can cost the profit one makes in six months and that is just the minimum. If a child goes to private school there are ongoing school fees. But for children to learn, it is necessary that they go to school. So parents continue to work hard for their children's well being and future.
Hello! It's me, Razafinirina. My business continues to go well despite a lack of chickens and the fact that people begin to spend less for poultry. During this vacation period, my children will stay here and spend their time playing and watching television. For Independence Day, we had a little celebration, not a big one. We killed a chicken and cooked it, and all the family got together to eat together, including my brother and sister.
Hello! It's me, Razafinirina. My business continues to go well despite a lack of products because of a disease of chickens. I am thinking about the national holiday, Independence Day, which is the biggest celebration in our country and it deserves to be celebrated more this year than any other because now I am earning more money. But that is not to say that I will spend too much in one day, on one celebration.
Hi from Marie Sylvia. I am happy that I was able to repay my first monthly installment and my business continues to go well. Thank you as well for the business training that Masomboly provided, because it shows that you are not content just to give us money, but you also want to help teach us how to plan our finances and that helps us more than anything. Thank you!
Hello, it is Marie Sylvia. To start I want to thank the Masomboly funders because the loan that you have given has helped me so much. My life has changed a lot since the first loan and not just financially. My life has changed overall as well. My business is going great, I sell poultry and the sales have increased week by week. Thanks to your loan I have been able to increase my investment and improve my family's life. Thank you for your confidence and your support!