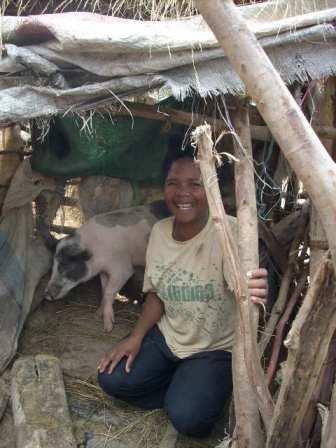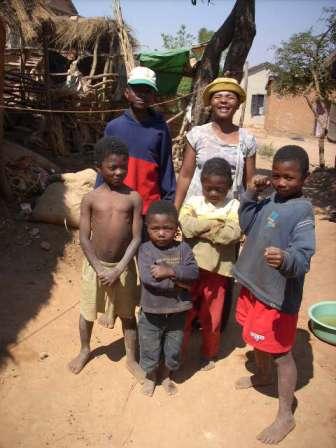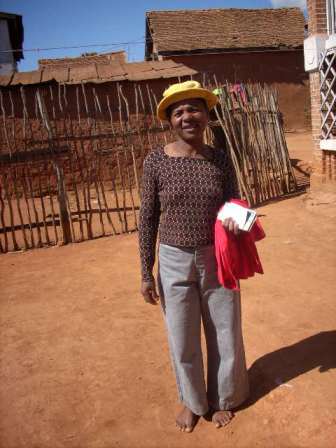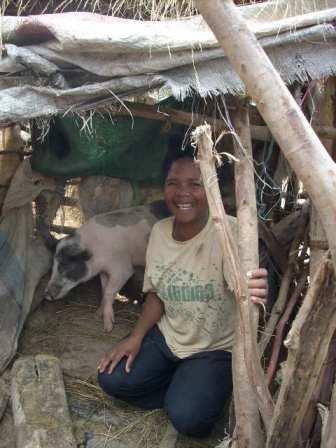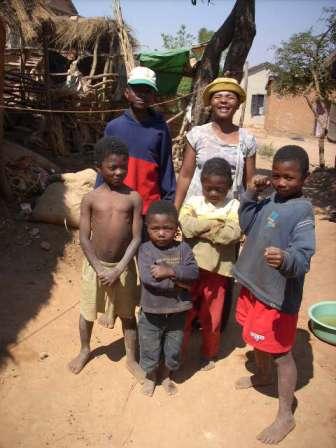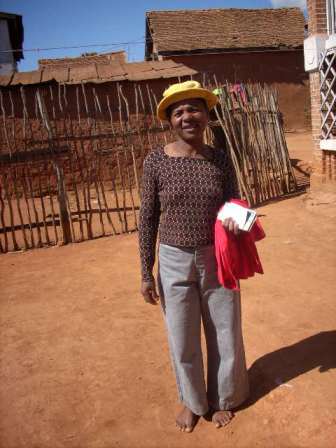 Pig farmer
32 Years Old
5 Children
Married
5 Years of Schooling
My name is Razanabololona Mauricia Yvonne; I'm 32 years old. I have 5 sons; they are aged from 4 to 15 years old. I've lived in Ambohijafy for 15 years. I am married; I went to school but only up to 5th grade. I raise animals now. I'd like to use this loan to be able to raise more animals and expand my business. My dream is to be able to give my family a better life and for all my children to all go to school.
Mauricia: I live in a small house made from wood and dirt with a straw roof and dirt floors. We have two small bedrooms and another room we use to cook and eat in. Twice a day I get water from the public pump and use gas for light.
Hello from Mauricia. In my family we have three meals a day. For example, yesterday, for breakfast we had coffee and rice. For lunch we always have rice with a sauce of greens and tomatoes and for dinner, we again had rice with a sauce of little peas. I am the one who buys all the food and prepares it. My family's favorite food is rice with bean sauce.
Hello! It's me Mauricia, the sickness that my family often has is diarrhea. The climate of Ambalavoa is different than the other places because here there is no forest. For the season, I rather like the winter because it is the season of the harvest. There is a lot a food and it is less expensive. At this moment, it is hot and it rains a lot here but that has no consequence on my business because I do breeding so my business works well.
Hi! It's me Mauricia; my day is a bit long because I start at 4 a.m. to fetch water because here right now water is difficult; after I prepare breakfast, I clean; we eat and after I get the kids ready to go to school, I take the smallest to school at 7 a.m. and when I come back I clean my court yard and also the pigsty, I feed them; it's after this that I go to the market at around 9:30 to 10 a.m., at my return I start to prepare lunch and at the same time I do laundry to win a bit of money on the side; at 11:45 a.m. I get my son from school and we eat after, in the afternoon I iron clothes and also I take care of my animals, we dine at 7:30 p.m. and right after I go to bed, Sunday morning I go to church and in the afternoon I still take care of the animals or I assist the reunion.
Hello! It's me, Razanabololona. I have five children who are going to school this year. They are still in primary school but the cost of schooling for them is already expensive because each year the fees increase as well as the cost of school supplies. But if one wants our children to study, we must make the effort so that they have everything they need for their studies.As for me, I want my children to a have an opportunity for a good education, because I did not have that chance.
Hello! It's me, Razanabololona. My business is going well. I am beginning to have more pigs to raise. My pig-raising business has brought me more profit than other things. For the vacation my children are going to spend their time planing and the oldest one will help me with household chores. For Independence Day, we went to the stadium to watch the parade, and in the afternoon, we went to the festivities the town had organized. We had lunch together and ate chicken.
Hello! It's me, Razanabololona. I am happy because my business of animal breeding continues to do well. I think this month I will earn even more than usual because it is our national Independence Day and the people celebrate this holiday without thinking about how much they are spending. This is the one holiday that they are able to celebrate because it is the end of the harvest and they have enough money from the harvest. But as for me, I will not spend too much.
Hi, it's me, Yvonne. I am happy because my farming is going really well and I was able to make the first loan repayment this month without a problem. I'm also able to manage my finances well for my business and I don't think I'll have any problem with the other repayments. Thank you!
Hello from Yvonne. I am happy now that I have a second loan from Masomboly. I will use it to gain even more profit to help my family. Our family life has changed much since the last loan. All of my children have whatever they need at school. Thank you for your help. It has given me the courage to take control of my life, and it has given me hope that I can achieve my dreams. Thank you so much!