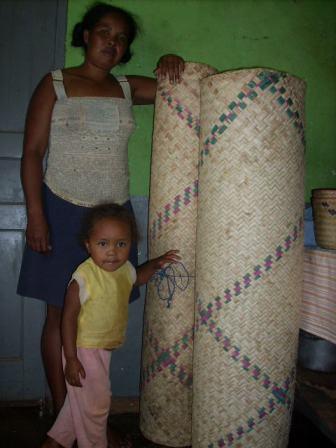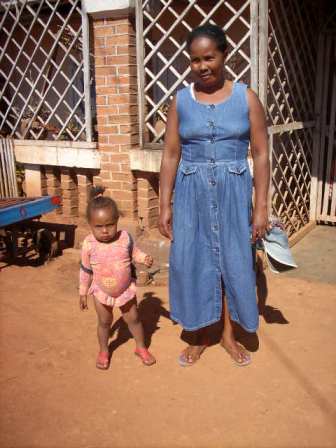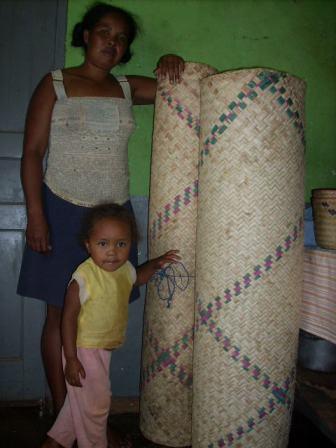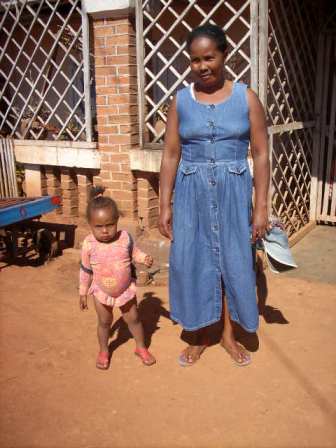 Trinkets Vendor
36 Years Old
5 Children
Married
8 Years of Schooling
My name is Razanamaria Jeanne. I am 36. I have 5 daughters; they are aged between 2 and 17. I have lived at Avaramanda for 4 years now? I am married. I studied until year 4. I am a traveling salesperson at the moment and I would like to use this loan to continue to be a traveling salesperson. My dream is to succeed in life and that all 5 of my children could go to school.
Hello from Jeanne. In my family we have three meals a day and at each meal there is always rice and a cup of coffee. Yesterday, I was the one who did the shopping and prepared the food, like I do every day. For breakfast we had soupy rice with chopped vegetables. For lunch we had rice with a sauce of small peas and litchis for dessert. For dinner we had plain rice. My family's favorite food is rice with fish sauce.
Hello! It's Jeanne. My family is often sick with malaria and the cough. The climate of Ambalavao is different because we are in low altitude. I like it when it's the winter because it is the period of the harvest and we have money, and on top of that there isn't any sickness or plague. At this moment it's the period of rain here at Ambalavao but that goes very well for my business.
Hello! It's me, Jeanne. My day always starts at 4:30 a.m. when I go get water. Afterwards, I make breakfast which we eat about 6:00 a.m. Just after, I do the housework and get the children ready for school. When they have left, I go to the market, and when I return I make lunch and also sell at the same time. My children come home at 11:30 a.m. and then we eat lunch. In the afternoon, when they go back to school, I again do my sales. We eat dinner at 7:00 p.m., then watch a bit of television and go to bed soon after. On Sundays, we have church in the morning and the afternoon is a time of rest.
Hello! It's me, Razanamaria. I have four children who go to school and I find that the cost of schooling increases each year here as well as the cost of school supplies. It is a little difficult for the parents even if they have already planned for this, especially for the cost of school supplies, but these are essential. But I have already made some sacrifices to save for these expenses, and if it is not enough, I will sacrifice some other things. Because it is for our children and their future - that is very important.
Hello! It's me, Razana. Now is the period of vacation from rice-growing, thus I am doing a different kind of sales at this time. I am selling used clothing, not here in Ambalavao but in another town. For the vacation, my children are going to go with me to the place where I sell this clothing because it is in the village where I was born. For Independence Day, we celebrated together in this village with all my family - this is the only time when my extended family can all get together.
Hello! It's me, Razana. Right now I am taking a little rest because the harvest is over and we are waiting for the next season. I am planning a little business which will bring me money. Independence day is a big celebration for us because at this time the people have the means and the time to have fun after the big work of the harvest. But I will budget my expenses because I don't want to have problems with the next reimbursement.
Hi, it's me, Jeanne. I have been very happy with the harvest season this year because it has gone really well and I have made even more profits than usual. I was able to repay the first loan installment and I even had some profits left over. Thank you also for the training that the Masomboly team gave us.
Jeanne here. I want to thank you for giving me another loan. I have been able to save from the previous loan and now I have a large stock of rice that we are going to begin planting soon. That means we will have a good amount to sell. All of this is thanks to your help! Thank you!