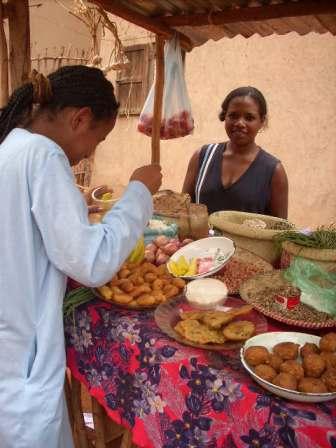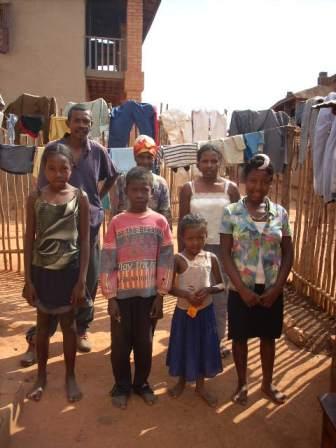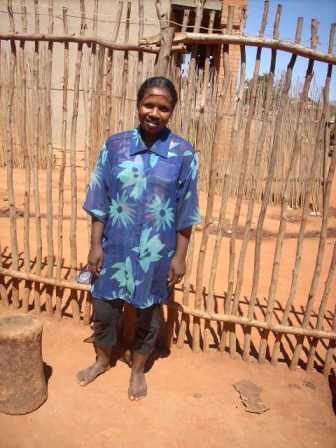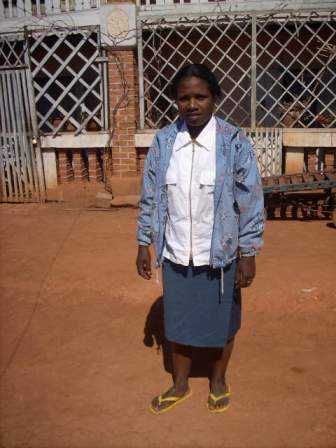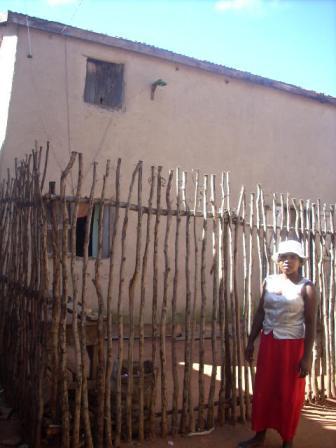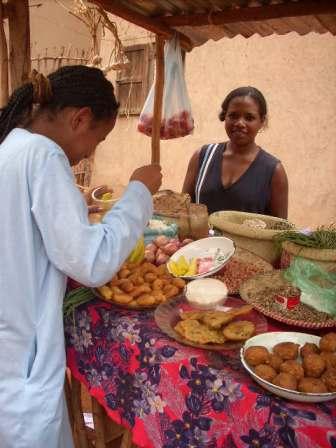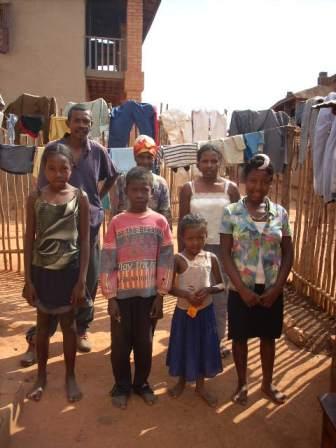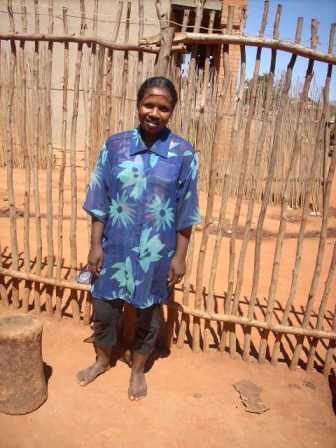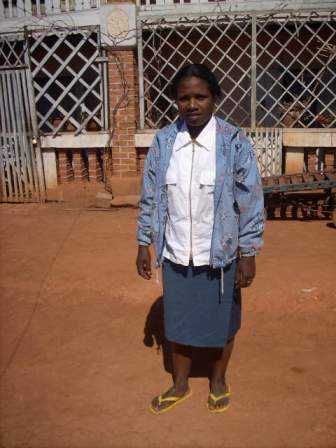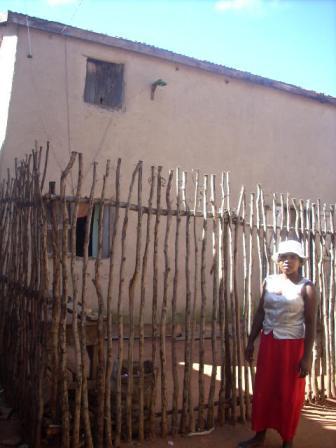 Trinkets Vendor
36 Years Old
4 Children
Married
9 Years of Schooling
My name is Razaranomenjanahary Claudine. I'm 36 years old. I have 4 children 2 daughter and 2 sons; they are aged from 5 to 16 years old. I've lived in Ambohijafy for 20 years and I'm not married. I attended school until 9th grade, I am a merchant but I'd like to use this loan to enlarge my commerce to make more money. My dream is to be able to provide a better and happier life for my family and that my children receive a good education, better than mine, and they'll have the chance to find good jobs.
Claudine: I live in a two room apartment. One is a bedroom and the other a dining room/kitchen. The walls of the apartment are made from brick, the roof from aluminum and the floors from cement. I live with my husband, kids and mother-in-law. We have electricity but the kids get water from the public pump twice a day.
Hello from Claudine. In my family we eat rice only two times a day, at lunch and dinner. For example, yesterday for breakfast we had bread with coffee. For lunch we had rice with a vegetable sauce and for dinner we had rice with a sauce of greens. We don't usually have dessert, but we eat fruit at other times during the day. I am always the one who buys the food and prepares the meals. My family's favorite food is rice with pork and beans.
Hello! It's me, Claudine. My family sometimes has headaches but I don't know how to answer because they don't get ill often. The climate of Ambalavao, it's different I think because of it's destroyed environment. It's hot here and it rains here a lot at the moment but this does not affect my business. For the season, I like the season of rain because the water is abundant. Like I said before, the rain does not have an affect on my business so it always works out well.
Hi! It's me Claudine; I always start my day very early in the morning because I have to make all the mofo and the coffee that I will sell before breakfast, so I wake up at 4 a.m. and I prepare all the things I will sell during the day, after all the kids go to school I do the cleaning and I run to the market to buy all the food for lunch and I go home and I get out my products and take them to my little shed by the side of the road and I sell and I cook at the same time; at 12 a.m. I go home to eat with my family and right after I go back to my business and I stay there all afternoon; at 5 p.m. I go back to the market and I buy what I'll sell the next day, that's how goes each day exept on Sunday I go to church the morning and the afternoon I rest.
Hello! It's me, Razaranomenjanahary. I still have four children who go to school. I think that this year it is the same as all the past years because the cost of schooling continues to go up. I am not surpised and I am already prepared because I do not want to have any difficulty for the schooling costs but what surprises me a little is the price of the school supplies. But one does not have choice. We have to buy what our children need.
Hello! It's me, Razaranomenjanahary. Business continues to go well up to this point. For the vacation, my children are going to help with the clothing sales and getting things ready to sell, as well as help with household chores. For the Independence Day celebration we did different things than we normally do, such as eating meat and poultry. In the morning,we went to the stadium to watch the parade.
Hello! It's me, Razaranomenjanahary. Business continues to go well up until this time, but after the Independence Day celebration, this is going to change because the people begin to be busy with the new agricultural season and planting. For me, this national holiday is a big celebration, because of our national pride, and it deserves to be celebrated - but it is important not to spend too much because we must always think of the days after the celebration.
Hello from Claudine. I am happy because I was able to reimburse my first loan installment without difficulty. I was thankful for the training I receive because it helped me learn how to better handle my money. My business is going well right now and with the profits I have been able to save some money even after repaying the first loan installment. Thank you!
Marie Claudine here. I want to thank you for having the confidence to give me a second loan. The money you have given will help me to enlarge my business and I am happy because that means more profits. With that I should be able to do other things for my family. Thank you!