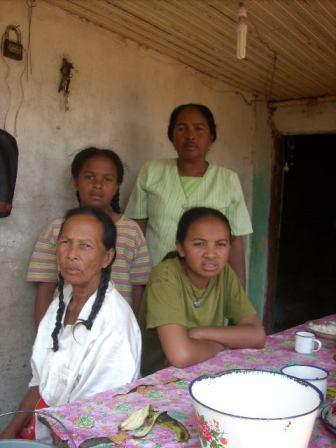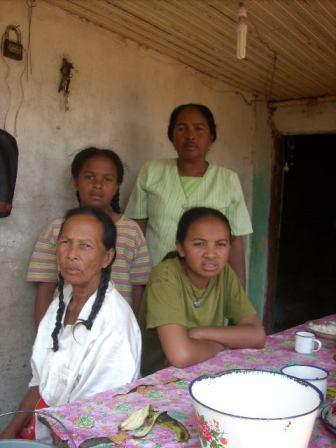 Tobacco sales
42 Years Old
4 Children
Married
16 Years of Schooling
My name is Tatamo Saholiarimalala. I am 42 years old. I have 4 children who are 3 girls and 1 boy; they are aged from 4 to 17 years. I live in Ambohijafy since 40 years and I am married. I have done any studies till class twelve, I could not continue my studies. I will soon become a professor at high school and I would like to use this loan for a small business of tobacco in order to help my children continue their education till the end. My dream is to see my children open up and have more education than I did and that they are able to comfortably work to ensure their future.
Hello from Tatamo. In my family, we eat three times a day and at each meal there is always rice. Yesterday, we ate rice with an omelet for breakfast and for lunch we had rice with fish sauce and a cucumber salad. For dinner we had rice with small pieces of fried beef. I am the one who buys the food and it is my mother who prepares the meals.
Hello, its me, Tatamo Saholiarimalala. In my family, there isn't that much severe illness. We just suffer from toothaches as most Malagasy families do. I've lived in Ambalavao since I was very little. The only thing I can say about the climate here is that it doesn't rain much like it does in other regions. This might be due to bush fire and it's geographic placement. As far as I'm concerned, I love the summer because I feel good during this season and I can work in peace because of the hot weather. When it comes to my business, the climate doesn't affect it much because it is the tobacco harvest season. Although there is a huge amount of rain, there is also an enormous amount of sun which compensates for the large amount of precipitation. My business is going rather well these days, there are even a lot of interested customers.
Hi! It's me Tatamo; my daily life doesn't change much and I feel like it has become monotonous and sometimes I'd like to change it a bit but I can't do it, it's like they say, habits are second nature so here it is I will describe to you my day and you will see what I mean. I begin every morning at 6 a.m.; I take my shower and I get ready to go to work as I am a teacher right now; I take my breakfast at 6:30 a.m. and right after I leave to teach my class that starts at 7:30 a.m. and I finish at 12 a.m., I eat lunch and after I look over my lesson plan for the afternoon class that starts at 14:00 p.m. and finishes at 17:00 P.m. I go home and I rest a bit before eating dinner while watching TV, we always eat dinner at 19 p.m. and right after dinner I prepare my lesson plan for the next day and I go to bed at 9 p.m.
Hello! It's me, Tatamo. I have four children who are going to school and I find that the school fees and cost of school supplies rise each year. It is a little difficult for the parents, even for those who have already prepared for "la rentree", because education and supplies are essential. But as I have already said, we make sacrifices for our children because education is so important. It is their future!
Hello. It's me, Tatamo. My activities during the day are routine right now because I am in class all day. I am doing a teaching training; thus I do not have much time for my business. It is my mother who is taking care of that now, but it continues to go well. For our Independence Day, I celebrated with my family at Ambalavao. We did not have a big celebration, but we ate turkey cooked with pork meat for lunch. Then the children left to participate in village festivities.
Hello! It's me, Tatamo. My tobacco business is still going well. Even though the harvest is finished, I still sell my stock and that gives me more money right now. We are beginning to prepare for the national holiday (Independence Day) which is a big celebration in our region. I know that we will be able to celebrate without difficulty because we have made enough profit and we are able to spend some of it on this celebration.
Hello, Tatamo here. I am happy because I have been earning a lot of profit with the sale of my tabacco. That is because the tobacco I have been able to buy is of the best quality. With the profits, I have been able to repay my first installment and I have more left over. I also appreciated the business training because it helped us who don't have very much experience with business. Thank you!
Hello, it is me Tatamo. I want to thank you all the funders for again having confidence in me. I have invested my second loan in tobacco and the profit that I will make will help me in paying off my costs of university. Thank you again to all the Masomboly team!