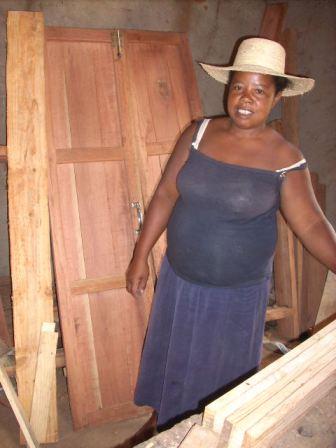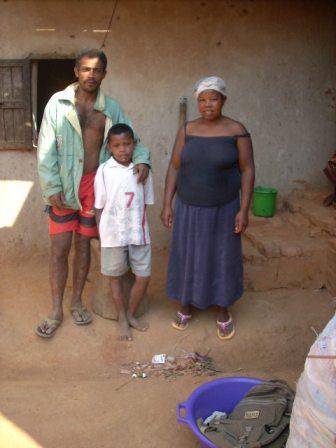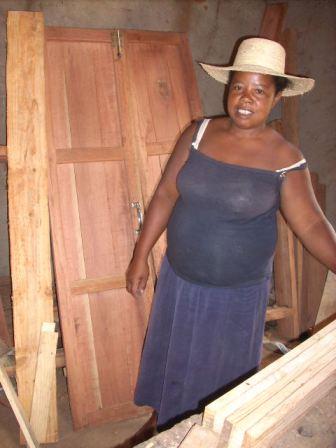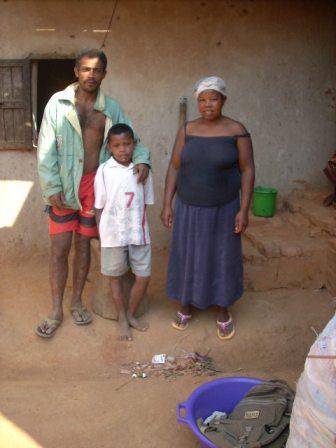 Vegetable Vendor
36 Years Old
4 Children
Married
6 Years of Schooling
My name is Tina Vahinjara. I'm 36 years of and I have 4 children, 2 daughters and two sons, they are aged 8 to 12 years old. I've lived in Ambohijafy for 15 years. I am married. I went to school until the 6th grade. I am a farmer and I'd like to use this loan to increase my cabbage crop. My dream is to have a better life for my children to be able to go to school and that they may continue to go on to university.
Vahinjara: I live in a three room house which is split up into a dining room/kitchen, a living room and a bedroom. I live here with my family. The walls of the house are made from brick, the roof from aluminum and the floors with cement. I get water twice a day from the public pump but we do have electricity.
Hello from Tina. In my family, I am the one who always buys and cooks the food. For example, yesterday we had bread with coffee for breakfast. For lunch, we had rice with a vegetable sauce and mangoes for dessert and for dinner, we had rice again with zebu meat (beef) with leafy greens. My family's favorite food is rice with zebu.
Hello! It's Tina. It's diarrhea that my family often has. It's brush fires that make the climate of Ambalavao different from other places because the environment is destroyed. I like winter because it's harvesting season and agriculturers like us get money to buy things. It it very hot and humid here right now but it's okay because business is going well.
Hello! It's me, Tina. I get up every morning at 4:00 a.m. because of water. I need to go get water. Then I make breakfast and after breakfast, I do household chores and clean the courtyard. After all that, I go to the market to buy food for lunch and I prepare lunch right away when I get home. At the same time, I help my husband with his work as a carpenter. We eat lunch at noon and then in the afternoon I continue to help my husband until 5:00 p.m. We eat dinner about 7:00 p.m., and then watch some tv before going to bed. On Sundays we go to church, and then rest in the afternoon.
Hello! It's me, Tina. I have four children who go to school and I find that the cost of schooling plus the price of the school supplies increases each year. It is a little difficult for the parents even if they have already planned for this, especially for the school supplies which are essential. But as I have already said, I have already made some savings for this and if it is not enough, I will sacrifice other things because it is for their future which is so important.
Hello! It's me, Tina. Right now I am having a little rest because the harvest is finished and I'm waiting for the next season. I am thinking of doing a little business of selling little cakes in front of my house. During the vacation, my children are going to stay here and they are going to help with household chores and also with my business, but certainly they will have time to play and enjoy themselves. For Independence Day, we didn't have a huge celebration, but we did things differently than normal. In the morning of the 26th, we went to the stadium to watch the parade and hear the speeches, and in the afternoon, the children went to the festivities that the town had organized.
Hello! It's me, Tina. I am having a little rest now because the harvest is finished and we need to wait for the next agricultural season. I am thinking about starting a little business such as selling little cakes in front of my house. Independence Day is a big holiday for all the villagers because it is at this time that we have both the means and the time to celebrate after all the work of the harvest. But I will budget my expenses, because I don't want to have problems with my next reimbursement.
Hi, it's me, Tina. I am happy that my business has been working well and that I was able to repay the first part of the loan without a problem. I hope this will continue and that I won't have any problems in the future repaying the loans. Thank you for the training that we received from the Masomboly team to help us manage our finances.
Hello from Tina. I am because my harvest this year is going well and I have been earning a lot of profits. With the profits I was able to reimburse the first loan installment on time and I have saved some as well. Thank you again for all of your support and help.
gHello from Tina. I am happy to receive a second loan because it will help me buy more products for the next sales cycle. The last harvest was much better than before and I have been able to save a bit that I willuse for doing some more planting. Thank you!