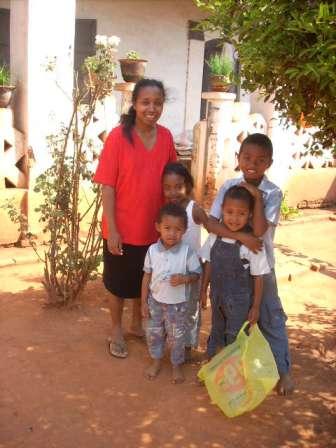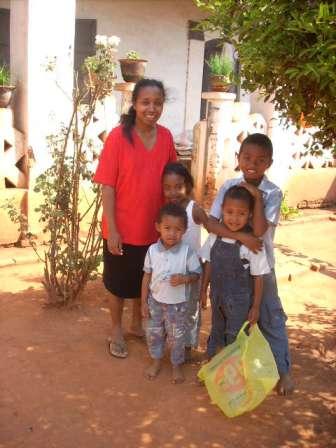 Shop owner
33 Years Old
4 Children
Married
11 Years of Schooling
My name is Vonjilalaonirina Hortense. I am 33 years old and I have 4 children 3 boys and 1 girl their ages are from 2 to 9 years. I live at Ambohijafy since 9 years. I am married. I have done my studies till class one and I am a grocer right now. I would like to use this loan to invest again in this grocery. My dream is to success in life and that my children can have a good education and do good work and we have a beautiful house.
Hortense: I live in a three room apartment with a living room, a bedroom and a kitchen. The walls are brick, the floors are cement, and the roof is aluminum. I live with my husband, my children and my maid. There is electricity and water in the apartment.
Hello from Hortense. In my family we eat rice three times a day. For example, yesterday for breakfast we had rice with French fries. For lunch, we had rice with chicken sauce and mangoes for dessert and for dinner we had the same thing as for lunch but without the dessert. I am the one who buys the food and it is the maid who prepares it. My family's favorite food is rice with pork and beans, and cake for dessert.
Hello! It's me, Hortense. The sickness that my family sometimes has is malaria. I think that the reason for the difference of climate is because we are surrounded by mountains. I rather like the winter because it is the period of the harvest and people have money and they buy many things. Also, there is a lot of food. We don't have water problems as much now. Even when it rains, water remains a problem. My business still does well. I don't have difficulties but the people don't buy much only what they really need.
Hi! It's me Hortense; my day always starts at 6 a.m., it's then that I get up, I take a shower and after breakfast, right after I leave the house to open my grocers' shop and I stay until 12 a.m.and I close to go eat and to rest a bit and I go back to the grocers' shop at 2 p.m. and I don't close until 7 p.m., I eat dinner at 7:30 p.m. and after I watch a bit of TV and I go to bed right after 9 p.m. I don't open my grocers shop on Sunday because I g to church and in the afternoon I stay with my children or I assist to a reunion.
Hello! It's me, Vonjilalaonirina. I have four children who go to school and this year the cost of schooling has increased 30-40 percent. That is a lot, but we do not have a choice if we want our children to go to school. We need to pay it and buy the school supplies as well which also have become more and more expensive each year. But we, the parents work hard in order that our children are able to do the maximum studies.
Hello! It's me, Vonjilalaonirina. My grocery store continues to do well because I sell things that the people need every day. For the vacation, my children are going to spend their time playing and watching the television. For Independence Day, we had a different meal than usual and we ate together with all our family. We also went to the festivities that the town had organized.
Hello! It's me, Vonjilalaonirina. My little grocery store continues to do well and I don't think that will change because even though this month is the end of the harvest, the things I sell are the things people need on a daily basis. For me, Independence Day is the biggest celebration of our Betsileo region because not only does it signify our independence, but it also marks the end of the harvest and everyone has the means to celebrate.
Hi, it's me Hortense. I wanted to thank the Masomboly team for having had the idea of giving us a training on financing. It was very useful in helping us to budget for our business. I was able to make the first repayment without being late and that made me really happy. My business is going well and I think that I'll be able to make the other repayments.
Hortense here. I want to thank you for having the confidence in me to give me this second loan. I am now able to expand my business and I am happy that my husband is very proud of me and all that I have been able to achieve thanks to your generosity. Thank you and may God bless you and protect you!