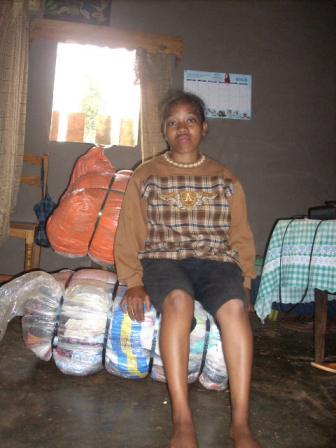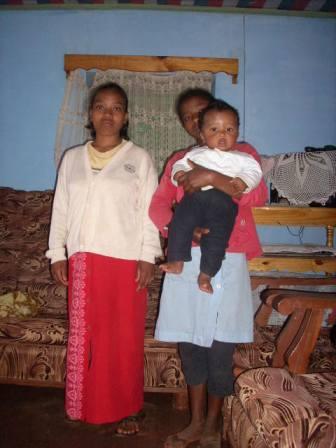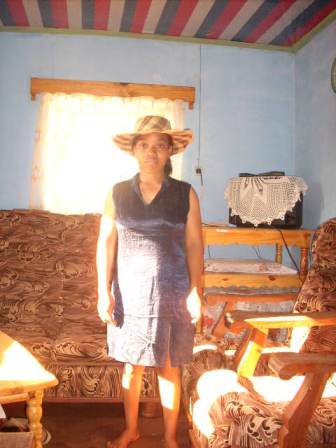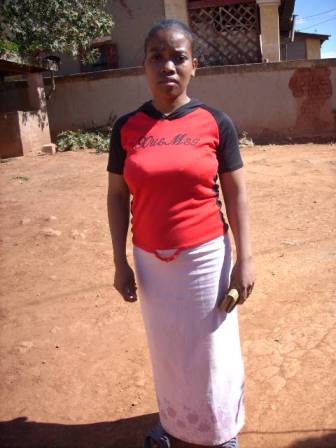 Used clothing
21 Years Old
3 Children
Married
7 Years of Schooling
My name is Ranomenjanahary Zafimanga Noeline. I'm 21 years old; I have 3 children: 2 girls and 1 boy, they are aged from 2 weeks old to five years. I've lived in Avaramanda for 8 years. I'm married. I stayed in school and studied until 7th grade. I work as a cleaning woman right now. I'd like to use this loan to start a secondhand clothes shop. My dream is to see my family bloom and for my children to have a better life than they do now.
Zafimanga: Our house has two floors and we live on the ground floor, where there are three rooms: a living room, bedroom and kitchen. The walls of my house are made of brick with an aluminum roof and cement floors. There is electricity in our house but I must go get water elsewhere once a day.
Hello from Zafimanga Noeline. In my family I am the one who shops for the food and cooks the meals. Yesterday for breakfast we had rice with an omelet and for lunch we had rice with chopped meat and vegetables. For dinner we had plain rice with small pieces of fried beef. My family's favorite food is chopped meat and small peas.
Hello! It's Noeline. The sickness my family often has is malaria and also asthma because of the changing climate. Ambalavao has a different climate because of the fires. By the way the seasons I like the summer because the temperature is good and the business works well and it's also vacation. It is very hot and it rains a lot here at this moment and that has an impact on my business because I only sell half day.
Hello! It's me, Noeline. I get up at 4:00 a.m. in order to go get water. At 5:00 a.m. I make breakfast and do the housework and we eat breakfast at 6:30 a.m. After that I get the children ready to go to school and I take them to school about 7:15 a.m. On my way back, I go past the market to buy some food. When I get home, I make lunch and at 11:15, I pick up the children from school and we eat lunch when we get home. At 1:30 p.m. I take the children back to school and then I go home to do the laundry. My mother-in-law helps me during the day by taking care of the sales. On Sunday, we go to church.
Hello, it's me, Noeline I have two children who go to school. They are in primary school. I have already saved money for them to start school and I think there will be enough to pay their entry fee and to buy their school supplies even though the cost of schooling has increased as well as the cost of school supplies. I find that each year the costs become more and more expensive and this poses a problem for parents because we need to spend more than we had planned. But this is necessary because the education of our children is so important.
Hello! It's me, Ranomenjanahary. The sale of used clothing continues to go well at this time, even though the price has gone down after the holiday. For the vacation, my child is still little so there is no vacation, but he spends his time playing. To celebrate Independence Day we went to the stadium to watch the parade. For lunch, we ate together with the family of my husband. This is the only time of year when we can get together with all my husband's family. We stayed at home in the afternoon.
Hello! It's me, Ranomenjanahary. My sale of used clothing is doing very well at this time because the people are getting ready for the national Independence Day. This is the holiday which is the most celebrated in the Betsileo region because at this time, the people have finished the harvest and they have money. Thus, they wish to get dressed up for this celebration. We profit from this, but will celebrate in as simple a way as possible.
Hi, it's me, Noeline. My business selling used clothes is going very well because it is harvest season right and there are a lot of celebrations going on. I am happy to have been able to repay the first installment of the loan. Thank you to the Masomboly team for the training that was very useful to us.
Noeline here. I need to thank you for giving me another loan. I have a business selling used clothing now and it is doing really well. I would not be able to achieve so much without your help and confidence. Thank you again for your generosity!