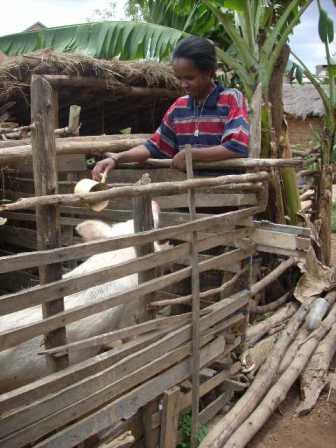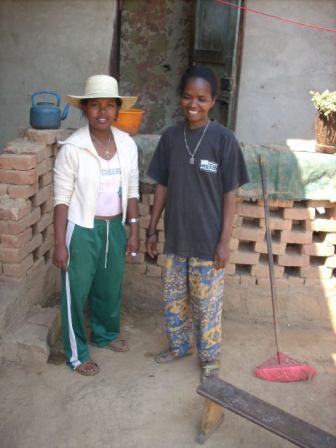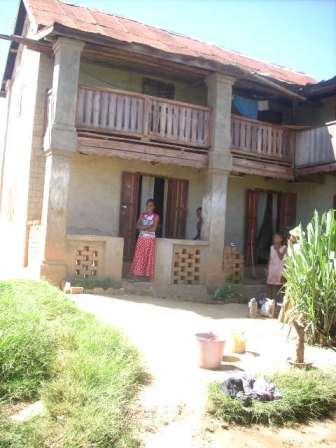 Yogurt Vendor
37 Years Old
5 Children
Married
11 Years of Schooling
My name is Razafindratsara Marie Jacqueline. I am 37 years old and I have 5 children who are 4 girls and 1 boy; their ages are from 4 to 15 years. I live at Ambohijafy since 25 years. I am married. I have done any studies till class two and I am a vender of yoghurt right now. I would like to use this loan for business of yoghurt because they are not many people who do it. My dream is to success in my life so that my family lives happily and all my children have a good education.
Jacqueline: I live in a three room apartment. It has a kitchen, a dining room and a bedroom that I share with my family. The walls are brick, the floors cement, and the roof aluminum. We have electricity in the house and the kids get water from the public pump twice a day.
Hello from Jacqueline. In general my family eats three meals a day but sometimes we have a snack as well. For example, yesterday for breakfast we had rice with a sauce of greens. For lunch we had rice with chopped meat and vegetables and mangoes for dessert. For dinner we had rice with zebu meat (beef) and beans. I am the one who buys the food and my daughter prepares it. My family's favorite food is rice with fish sauce.
Hello! It's Jacqueline. The disease that my family often has is malaria. I think that the climate in Ambalavao is different from others because the environment is destroyed and there isn't any forest here. For the seasons, I like winter because it's cold and also it's the harvesting season. There is lots of food and clients to buy because the villagers go to the city. It's really hot here and it rains a lot right now but this doesn't have an impact on my business because I do breeding of livestock.
Hello! It's me, Jacqueline. I get up at 6:30 a.m. every morning to do the housework. It is the children who take care of getting the water and making the breakfast. At 7:00 a.m. I get my son ready to go to school and I take him to school. On my way back I go to the market to buy food for lunch, and when I get home, I cook lunch and also feed the pigs and clean their hutch. Then we eat lunch, and in the afternoon I do other chores such as laundry. I begin to prepare dinner at 6:00 p.m. and we eat at 7:00 p.m. Then we watch a little tv before going to bed. On Sundays, we go to church.
Hello! It's me, Razafindratsara. I have four children who go to school and I find the the cost of schooling and the price of school supplies increases each year here. It is a little difficult for the parents even if they have already saved money for this, especially for the supplies, but they are essential. But I have already saved for this and I if I do not have enough, I will sacrifice other things because the education of my children is so important. It is important that my children grow in wisdom and knowledge.
Hello! It's me, Razafindratsara. My business is going well now because I have changed what I am doing. Now I am raising pigs because there will be more profit than before. For Independence Day, this is a very large celebration here, but we did not have a big celebration, In the morning, we went to the stadium to watch the parade and hear the speeches of the town officials and in the afternoon, we went to the festivities that the town had organized. We ate chicken for lunch with the family of my husband. For the vacation, my children are going to visit my sister.
Hello! It's me, Razafindratsara. My business is still going well. For me, Independence Day is the biggest holiday here because all the villagers have finished the harvest and they have money. Everybody only thinks about celebrating with worrying about how much they are spending. But I will earn even more. We will celebrate this holiday like all the other holidays without spending too much.
Hi, it's me, Jacqueline. I am happy that my business has been working well and that I was able to repay the first part of the loan without a problem. I hope this will continue and that I won't have any problems in the future repaying the loans. Thank you for the training that we received from the Masomboly team to help us manage our finances.
Hello from Marie Jacquline. I am havppy because I will be able to buy more meat for dinner with the profits from this loan. If this continues I will be able to do even more thanks to the Masomboly loans. This laon has helpe me in more than just my finances, as my relationship with my husband is better as well. This is all thanks to you and your generosity. Thank you!