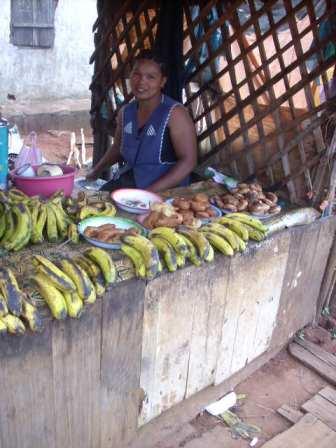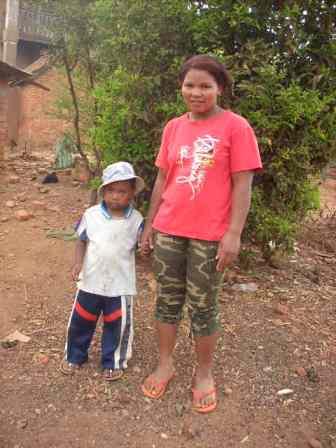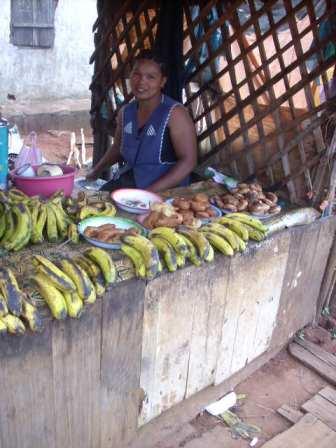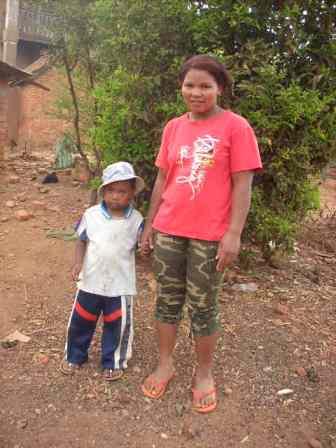 Donut vendor
26 Years Old
1 Child
Married
8 Years of Schooling
My name is Rafanomezantsoa Fanjanirina Marie Judith. I am 26 years old and I am married with one son. I have lived here for 5 years. I studied for 8 years in school. At the moment I sell coffee and donuts. My dream is to someday be able to buy enough land to build a home for my family.
Update One
"Judith: I live in a room inside of an apartment with brick walls, aluminum roof and wooden floors. My mother lives here with me and my family. Although we have electricity, I must get water twice a day from the local water pump."
Update Two
Hello, it's me, Judith. In my family the illness that we have most often is malaria and a cough, especially at this period. The climate of Ambalavao is different than other areas because there are no more forests here because of brush fires that the people start a lot. My favorite season is winter because it is the harvest time and we can earn a lot of money in sales. Right now it is the rainy season and that is not good for business as it rains every afternoon so people earn less than usual.
Update Three
Hello, it's me, Marie. We eat three meals a day. At each meal there is always rice. For example, yesterday for breakfast we had rice with fish sauce. For lunch we had rice with beef and watercress, with litchis for dessert. For dinner we had rice with beef and greens. I am always the one who buys the food and prepares it. The thing my family likes to eat most is rice with fish sauce.
Update Four
Hello! It's Judith, I wake up every day at 3 or 4 am at the latest to make mofo and coffee to sell. At 5:30 am I make breakfast and find water. After brekfast I clean the house. When I am finished cleaning I go out to sell the mofo and the coffee. I sell things all day long in the same place; at 5 pm i go home to make dinner which we eat at 7pm and go to sleep immediately after. On sundays it's the same unless there is a meeting.