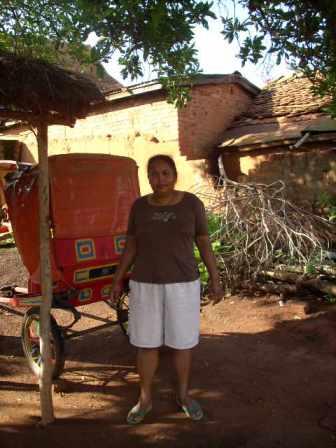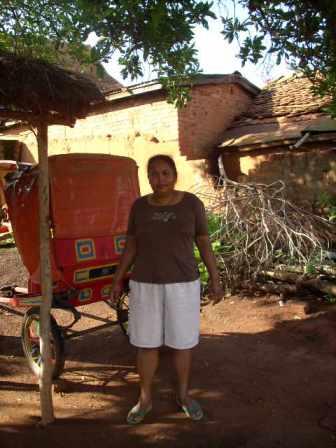 Cart construction
40 Years Old
3 Children
Widowed
8 Years of Schooling
I am 40 years old and I am a widow. I have 3 children, 2 boys and a little girl. I studied up until 8th grade and I have lived here for 8 years. I run a pousse-pousse contruction business and I would like to use this loan to build more. (A pousse-pousse is a type of cart.) Someday I would like to build a house of my own for my family.
Update One
Hello from Liliane. In my family, we eat three times a day. For breakfast yesterday, we ate rice with pistachio butter. At lunch, we had rice with cooked greens and a shredded carrot salad. For dinner, we ate the same thing as for lunch, except for the carrot salad. I am the one who shops for all the food and cooks the meals. My family's favorite food is pork with cooked mixed leafy greens.
Update Two
"Hello! It's me Liliane. My family often suffers from tooth cavities. Tooth aches have become a daily problem in a lot of malagasy families in Ambalavao. The climate in Ambalavao is different from other places because of its geographical location and I think because Ambalavao is surrounded by mountains in a basin and also there are a lot of brushfires because here people aren't conscious of their impact. I like summer because it is neither too hot nor too cold. My business does well and I can say that I have a lot of clients at this time because when it rains people need cheap transportation. "
Update Three
Hi! It's me Liliane; my day always starts at 6a.m., I make breakfast and while it cooks I go fetch water, I clean the courtyard; my children get up they eat and right after I get them ready to go to school; I get out the rickshaw to rent and after that I go to the market to buy products for lunch, I prepare lunch and we wait for my children we eat together; in the afternoon when everyone leaves for their occupation again I do a bit of laundry and sewing and at around 5 p.m. I greet the people who return our rickshaw and after it's the preparation of dinner, we eat and we always go to sleep at around 9 p.m. This is how my day goes it's a bit monotonous and Sundays it's church.