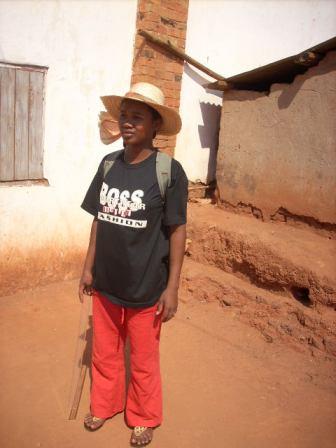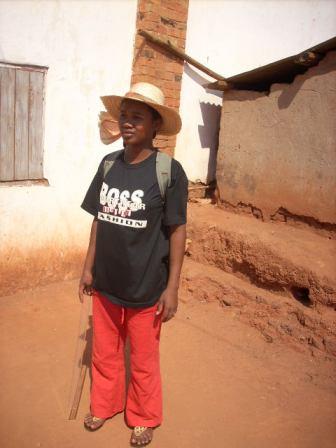 Trinkets vendor
20 Years Old
0 Children
Single
11 Years of Schooling
My name is Tovonirina Angeline. I am 20 years old and I am not yet married. I don't have any children, because I am still a student in the 11th grade. I have lived here in the town for 10 years. My dream is to succeed in my studies so that I can build myself a good future.
Update One
"Angeline: I live in an apartment with three rooms, one that I use as a living room, one is a bedroom and the last one is the kitchen. There are brick walls, cement floors and a roof covered with aluminum sheets. I live with my family and we have electricity and water in the house."
Update Two
Hello from Angeline. In my family we eat rice three times a day and I am the one who always cooks the food. My mother is the one who shops for it. For example, yesterday for breakfast we had rice with leafy greens. For lunch, we had rice with a vegetable sauce and for dinner we had rice with an omelet. My family's favorite food is rice with the meat of zebu (beef) and greens.
Update Three
Hello! It's Angeline! The illness that my family sometimes has is fever. I think that Ambalavao has a different climate than the other regions because it is surrounded by mountains and also there are brush fires that burn the forests. The season that I love the most is winter because there is the harvest and business does very well. Also, food is abundant and less expensive. It's the rainy season here at the moment and it's hot and that's not good for business because there are not a lot of clients because it's the period of the harvest and the villagers don't come to town to buy.
Update Four
Hi! It's me Angeline; I always get up at 5 a.m. to go fetch water; after this I take a shower and I do the cleaning and it's the children who prepare the breakfast, we eat at 7 a.m. everyone leave and I give my sewing lesson that starys at 8 a.m. until 12 a.m. and 2 to 5 p.m. the afternoon; I come how and I prepare dinner we eat at 7 p.m. and we go to bed at around 9:30 p.m. because we watch a bit of TV. It's always like this exept on Sunday, it's church and laundry.